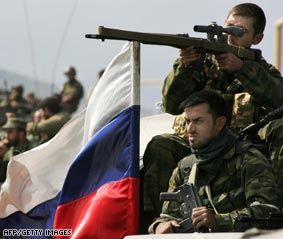 "I have reached a decision to halt the operation to force the Georgian authorities to peace," Medvedev said. "The aggressor has been punished and has incurred very significant losses. Its armed forces are disorganized." Despite the Russian president's announcement, it is still unclear, whether this means an end to the war, or not. However, some conclusions can be drawn even today.
The cost of the 6 day war, that started with Georgia's genocidal attack against the peaceful population of its breakaway South Ossetian region and ended with Russia's response action followed by Russian intrusion into Georgian territory, blockade of Black See ports and opening of second front from Abkhazia, another breakaway region of Georgia, has been horrible for Georgia. According to Russian claims, there are 2,000 dead and over 30,000 refugees from the South Ossetian population of around 100,000 people. Georgian army and military infrustructure suffered a deadly blow from the Russians, whose massive "peace enforcement" campaign turned into a full scale invasion into Georgia, with conflicting reports of taking Gori, Zugdidi, Seneki, etc.

Even now it is hard to understand who were the conflicting sides? There are suggestions, that it was 1. Georgia, 2. Russia, 3. USA, 4. NATO, 5. South Ossetia and Abkhazia – sorted according to the degree of their involvement. At this point it is also hard to understand who won – Russia? The West? One thing is clear – peaceful population of South Ossetia were the ones who paid the horrible price for geopolitical ambitions and divisions of influence.  It is also beyond any doubts, that Georgia lost badly and the world has yet to study the lessons of the Georgia-Russia war, one lesson learnt is – Kosovo precedent has everything to do with the burning and frozen conflicts in the South Caucasus. Perhaps it is the right time to think about the consequencies for the Nagorno-Karabakh conflict?