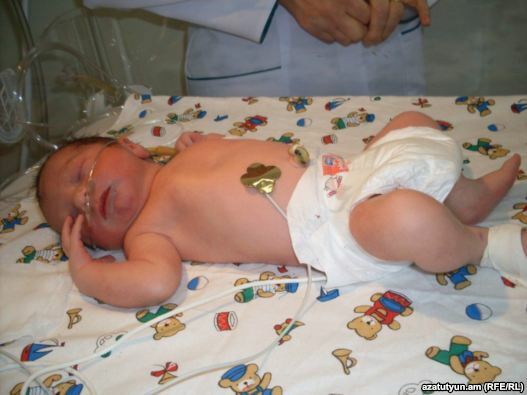 Vahram Voskanian was born 20 minutes past midnight in Artik's Mother and Child Care Center in Northern Armenia. The Armenian office of the UNFPA, the United Nations Population Fund recognized him as Armenia's symbolic 7 billionth child.
Artik was chosen as the symbolic location, because that's were least amount of babies are born compared to other regions of Armenia. Also, the Artik Mother and Child care center is one of the worst equipped.
The child was given a special certificate, UN promised to take care of some of his urgent needs. The UN office in Armenia also presented the hospital with an echoscope.
Little Vahram's father – Garik Voskanian was not able to see his first-born child today, as he is a migrant worker in Moscow and the little boy was born prematurely – he's only 7 months old. Relatives have said the father of the 7 billionth child is on his way and will hug his son soon.
Meanwhile, countries around the world marked the world's population reaching 7 billion today holding ceremonies mark the milestone, with a series of symbolic seventh-billion babies being born.
The United Nations says that by its best estimates, the world population will reach 7 billion somewhere on October 31, but it has said it will not designate a single newborn as the seventh-billion baby.