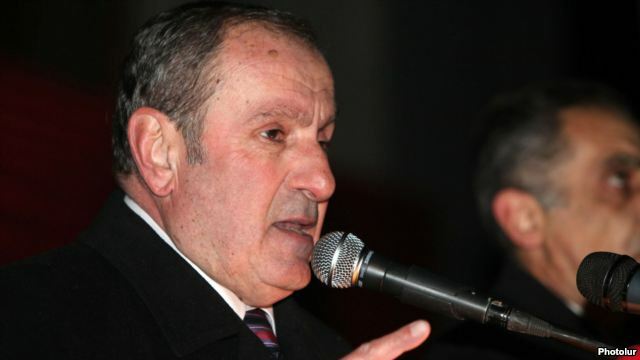 My main conclusion from today's opposition rally is that Armenian National Congress (HAK) has nothing to offer his few remaining loyal supporters and will continue its wait-and-see approach hoping that contradictions in Armenia's ruling coalition will somehow dismantle Serzh Sargsian from power.
Even as opposition leader Levon Ter-Petrossian made a potentially sensational announcement about his readiness to cooperate with  Gagik Tsarukian's Prosperous Armenia Party (BHK), it was probably a simple attempt to add fuel to the fire and see what happens amid speculations of renewed tensions between the BHK and Sarkisian's Republican Party of Armenia (HHK) stemming from Tsarukian's apparent reluctance to reaffirm support for the incumbent president's reelection.
Tsarukian, Armenia's richest tycoon, is known for his close ties with Armenia's Second President Robert Kocharian. Analysts say tensions in ruling coalition are a result of Koacharian's recent statement about his readiness to return to politics. Tsarukian's BHK party is seen as Kocharian's main support base.
The rivalry and almost hatred between Armenia's First President Levon Ter-Petrossian and Kocharian are well known. Given this background, it is hard to believe, that Ter-Petrossian could seriously consider partnership with Kocharian's support base. So the partnership offer was most likely an attempt to set HHK on BHK and watch them fight.
Meanwhile, HAK is effectively taking itself out from all political equations till February (that's when the next rally is announced), to watch from safe heavens if this divid et impera policy will work.
Interestingly, HAK wasn't really trying to amass a large crowd this time. I didn't even get the usual printed leaflet this time. This makes me think, that all important messages of this rally were directed to HHK and BHK, not HAK's supporters or anyone else.