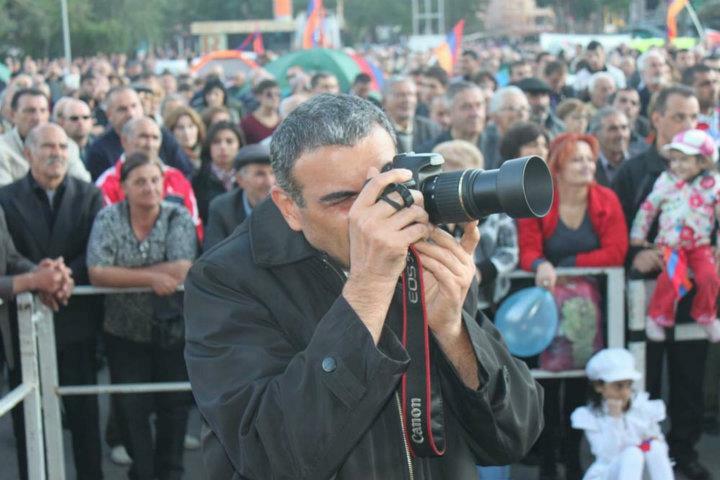 Rock-solid and self-assured Hayk Gevorgyan projects an image of a reliable man. Tall and tireless, Hayk is one of those rare Armenian journalists, who has always been on the spot to face riot police, their water cannons and stun grenades with a camera and a hell of a lot of courage.

Gevorgyan, 45, a prominent journalist working for pro-opposition newspaper "Haykakan Zhamanak", was arrested on Friday on charges of running over a man named Ashot Frangulyan and abandoning him on the site of the traffic accident.
The veteran journalist, columnist and editor of Armenia's top-selling daily newspaper has been detained more than 20 days after the alleged accident.
Gevorgyan's friends, colleagues, as well as the Armenian opposition claim, that charges against Hayk Gevorgyan are fabricated. Prominent opposition activist @himakaren twitted yesterday, that head of Armenia's police Vova Gasparian is thus punishing the journalist for a critical article published on the day of the alleged car accident, January 13th.
https://twitter.com/#!/HimaKaren/status/165424071167840256
Gevorgyan drives a popular off-road vehicle, a Niva.
Note, Hayk Gevorgyan's son, Vahagn Gevorgyan, is one of the accused in the Aug. 9, 2011 incident between Armenian National Congress activists and police.
PS: I simply refuse to believe that Hayk Gevorgyan could run over somebody and leave them helpless on the street. He is just not that type of a person. And I firmly believe, that the Armenian police are trying to punish Hayk Gevorgian for being who he is… for being a real journalist!