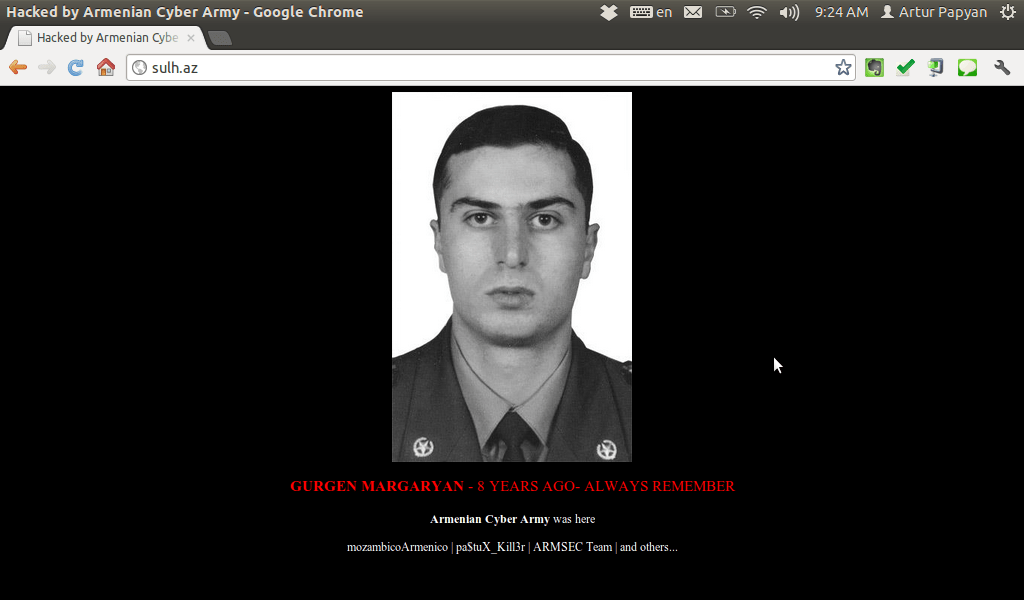 Armenian Ciber Army hacks over 20 Azerbaijani sites to mark the 8-year anniversary of the Armenian officer Gurgen Margaryan's murder in Budapest.
Armenian security expert Samvel Martirosyan posts the list of hacked websites, which are the following:
http://sulh.az
http://autolux.az
http://www.bakucctv.com
http://www.dayaq.org
http://rednews.az
http://www.sonxeber.az
http://cereselektrik.com
http://primetime.az
http://www.rotaract.az
http://www.hilalelektrik.az
http://toyumuz.com
http://cinsielaqe.com
http://nigarjamal.com
http://www.atv.az
http://study-line.az
http://www.americanacademy.az
http://www.jalal-i.com
http://brf.az
http://www.extreme.az
http://arabesque.az
http://www.zirve.edu.az/index.php
http://econews.az
On February 19, 2004 Gurgen Margaryan, 26, was axed to death while asleep by Ramil Safarov, a Lieutenant of the Azerbaijani Army. Both were participants of an English language training course within the framework of the NATO-sponsored "Partnership for Peace" program held in Budapest, Hungary.
Hundreds of Armenians went to Yerablour cemetery on Sunday to commemorate the third anniversary of a tragic death of Armenian army officer.
The Hungarian court sentenced Safarov to life imprisonment without the right to apply for parole for the next 30 years.