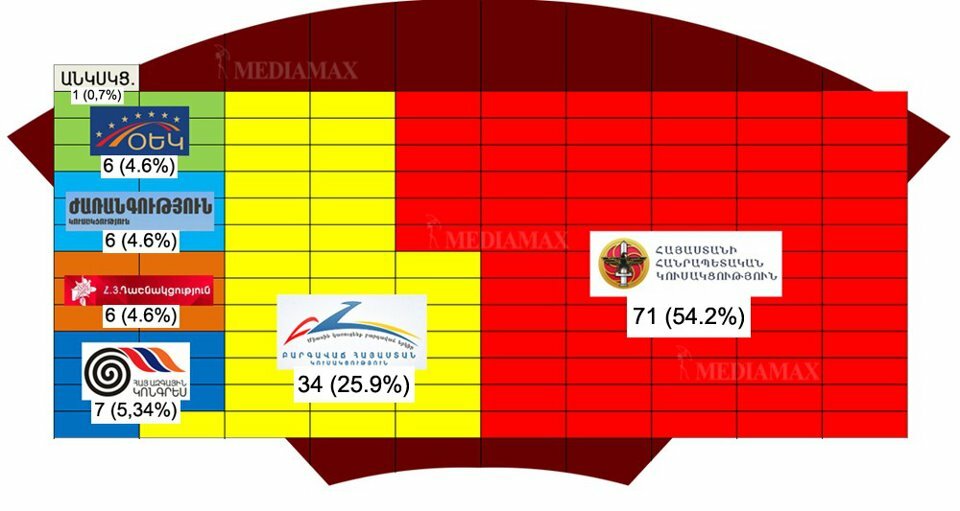 Looks like Armenia is more or less content with the outcome of the parliamentary elections that took place on May 6.

Armenian president Serzh Sargsyan's Republican party won a decisive victory and strengthened their hold on the National Assembly. The Republican faction had 62 mandates in the 131 seat parliament elected in 2007. Now they can easily claim 71 seats after gaining 44% of the proportional vote and winning 29 seats in the constituency based majoritarian voting system.
There are two political forces, whose opinion matters most of all in terms of making these elections legit. Both of those forces have by now issued statements, which basically mean that they'll accept the results of the elections and go to parliament.
The Republican party's most significant political opponent is of course its junior partner in the ruling coalition  – the Prosperous Armenia Party (BHK). This party was the only force which had enough political weight and resources to challenge the Republicans. At some point during the pre-election campaign it even seemed that they can come out as winners of the elections. The preliminary vote counts showed, however, that although BHK has expanded its presence in the new parliament, it is not even close to threatening the power of the Republicans. BHK will be able to claim 34 seats which is an increase compared to their presence in the outgoing parliament with 26 mandates. The leader of the party Gagik Tsarukian issued a statement yesterday, saying he will hold true to his campaign promises and help "overcome the challenges faced by our people and our state." He also called unprecedented the large number of people who voted for his party (450,000), which signals that BHK is basically happy with the elections. Even though this is a confusing message, I take it as an acceptance of defeat.
The ruling Republican party's arch-rival,  the opposition Armenian National Congress (HAK) on Tuesday rejected official vote results as fraudulent but said it will take up seats in the new National Assembly and fight against President Serzh Sarkisian "on all fronts." Going to parliament means they accept the outcome of the elections and won't stir up another riot akin to the one that led to violent clashes on the streets of Yerevan and 10 deaths back in March 1, 2008.
One of the biggest losers of the elections is the opposition Armenian Revolutionary Federation (Dashnaktsutyun), which held 16 seats in the outgoing parliament and will be able to claim only 6 in the new one.  They challenged the legitimacy of Sunday's parliamentary elections on Tuesday, saying that their outcome was essentially decided by "unprecedented" vote buying.
However, the experience has shown, that Dashnaktsutyun has always been more reasonable in stirring internal political matters in the face of an external foe (Azerbaijan and Turkey), so as ceasefire violations by Azerbaijan in Armenia's bordering Tavush region continue to intensify, Dashnakstutyun will most probably tone down their revolutionary rhetoric and avoid complicating matters not to give additional stimuli to Azerbaijan to press on with more attacks.
A junior member of the ruling coalition Orinats Yerkir (Rule of Law Party) and opposition Zharangutyun (Heritage) party will each be getting 6 seats. Orinats Yerkir had 8 deputies, while Zharangutyun had 7 in the outgoing parliament, so they both have reasons to be dissatisfied. However, none of these forces are likely to do anything radical, go out on the streets protesting, etc.
PS: I had two big concerns throughout the election campaign. One was that the post-election period might once again turn into a blood-bath as in 2008. Luckily, we avoided this. A second concern was that a further strengthening of BHK will lead to the return of former president Robert Kocharian, who is rumored to be behind the political moves of the party led by Gagik Tsarukian, a close ally of Armenia's second president. Kocharian, of course, is the man who locked down A1plus TV, choked media freedom in Armenia and was running the country during the Parliament shootings of October 27, 1999 and killings of protesters on March 1, 2008. So yes – personally I'm also fine with the outcome of these electiona like almost everyone.