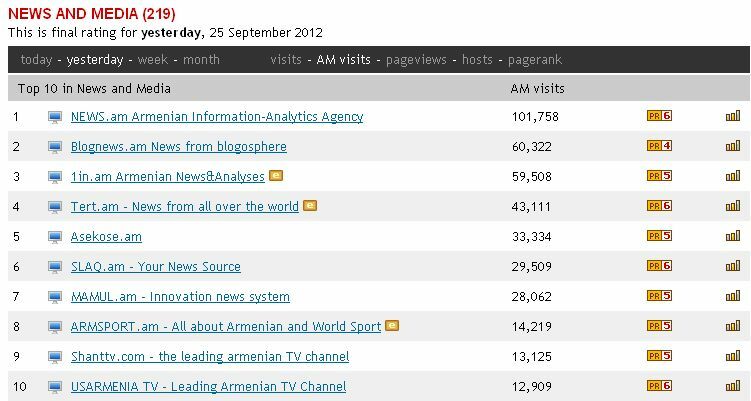 Comparing data from Armenian website rating engine Circle.am and newly released information from "AGB Nielsen Media Research" indicates, that online news readership is catching up with TV news audiences in Armenia.
Armenian TV audiences have been dwindling since 2009. Meanwhile, with increased accessibility of cheap broadband internet, Armenian news website traffic has been growing by jumps and leaps.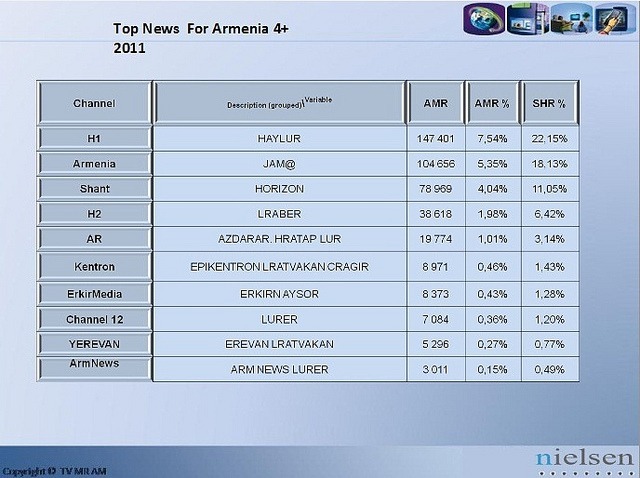 Dedicated Armenian media portal Media.am published Nielsen's findings about TV audiences in Armenia in 2011.
I wasn't able to find 2011 data about Armenian website traffic, but using yesterday's pretty average traffic chart from Circle.am above (which is filtered to only show visits from Armenia), one can see, that audiences of Top 10 Armenian News Websites have a clearly reached the Top 10 Armenian TV News programs. We could even claim, that online news has surpassed TV, but additional data is necessary from Circle.am and Nielsen to be sure.
PS: As a website editor for RFE/RL's Armenian service (Azatutyun.am), I'm biased of course and have to confess, I'm really happy to know, that the web news business is beating TV. Way to go!