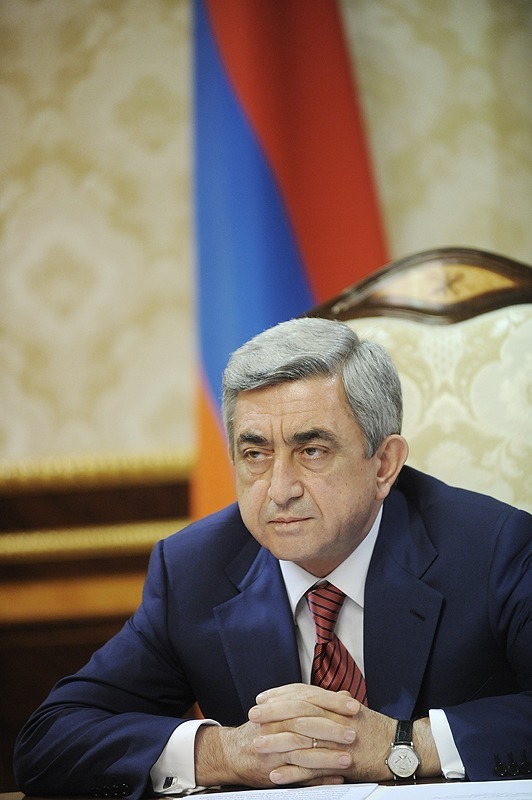 The presidential elections are to be held in Armenia on February 18. President Serzh Sarkissian's reelection seems to be simply a matter of technicality. Apathy reigns among voters and politicians alike.

All major political forces withdrew from the elections last month, including the Armenian National Congress led by the country's first president Levon Ter-Petrossian, Prosperous Armenia headed by one of Armenia's richest persons – Gagik Tsarukian and the Armenian Revolutionary Federation – Dashnaktsutyun.
Heritage party is the only parliamentary force that is backing an opposition candidate – its founder and leader Raffi Hovannisian, a former foreign minister. Hovannisian, together with former prime minister Hrant Bagratian and an ex-soviet dissident Paruyr Hairikian are the 3 candidates who are at this point taken seriously by the voters. None of the people I've talked to seem to think, that either of them stands a chance.
The Main Actors

Armenia's Central Electoral Commission (CEC) has registered eight presidential candidates. They are incumbent president Serzh Sarkissian, leader of Heritage Party Raffi Hovannisian, chairman of Freedom Party Hrant Bagratyan, head of National Self-Determination Union (NSU) Paruyr Hayrikyan , former Karabakh FM Arman Melikyan, unemployed and self-styled "epos specialist" Vardan Sedrakyan, head of National Accord party Aram Harutunyan and director of Radio Hay Andreas Ghukasyan.
Serzh Sarkissian owns the electoral process – the Central Electoral Commission, Electoral districts, law-enforcement, judiciary, the state bureaucratic apparatus, the media powerhouses, leaders of local semi-criminal groupings. Voters' mood – that of apathy and indifference – works for him. Immigration works for him. All that Sarkissian needs now is some sort of proper opponents to make his inevitable victory at the polls look genuine.
Hrant Bagratian is an internationally recognized economist, scientist, the former PM, the ultimate crisis manager. Also qualified as a lawyer, he is, in my opinion, the most qualified candidate to lead the country. Unlike the other candidates, Bagratian already has a published election platform. The most important thing that Bagratian is doing is giving the voters a choice. It is also important that Bagratian has already highlighted his intention to run the campaign on an economic platform and refrain from empty rhetoric and declarative statement that have been the main trait of all past elections. Sadly, however, Bagratian stands no chance of outperforming the administrative leverages, financial and media horsepower of Sarkissian. The fact that the Armenian National Congress has refused to back its prominent member – Bagratian – isn't very helpful either.
Raffi Hovannisian has a royal air about him. He is the most educated of all candidates, has a dignified look and posture, is seen as a great patriot. However, the problem with Hovannisian is that he has been changing his mind too often (during his tenure as an MP in last parliament announced that he'll drop his mandate, then changed his mind, than again in the new parliament dropped the mandate, etc…). Another issue is his manner of speaking – even though Hovannisian pronounces the long and beautiful Armenian words, the meaning of his speeches often escapes the audience… Hovannisian also faces a major stereotype – it is the perception in Armenia that a Diaspora Armenian (Hovannisian was born and grew up in the US) will never quite get how things work in this country and will always be fooled/tricked by locals.
Paruyr Hayrikian, a former dissident, an unusual and artistic personality, is running in this elections not to win, but rather, as he confessed in a recent press conference, to make his words heard by president Serzh Sarkissian. Hayrikian has run and lost presidential elections before and it seems like he is there more to serve as brilliant decoration to the comedy called elections. Still, he has a certain following since the first days of Armenia's independence and might even get something like 5% of the vote. Hayrikian also has a campaign website, even though there are no traces of a program there yet.
I am inclined to discard the remaining candidates until they say or do something of note. The campaign will kick off on January 21. The election, as I mentioned earlier, is scheduled for February 18.