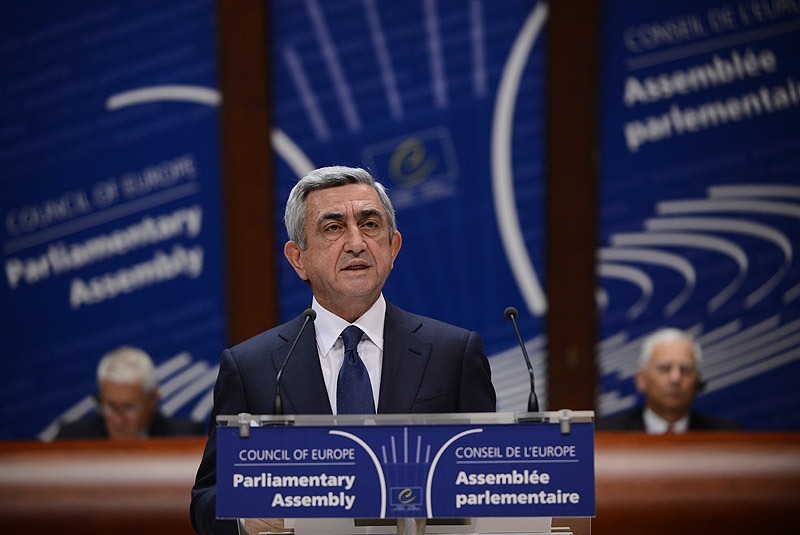 Armenian President Serzh Sarkissian used the opportunity to make a speech during the plenary session of PACE to finally give some sort of an explanation about his decision to join the Russia-led Customs Union effectively blocking the way to the  Deep and Comprehensive Free Trade Agreement and the EU Association agreement that came with it.
"Even now we are ready to sign the Association Agreement with the EU," he said according to the RFE/RL. "But unfortunately, after our statement on joining the Customs Union our partners from the European Commission said that there is a direct contradiction between the Customs Union and the Deep and Comprehensive Free Trade Agreement with the EU.
We suggested that we sign an Association Agreement envisaging mainly political reforms, and we are not only ready but also determined to carry out those reforms in our country. This process is now underway."
Two things strike me most about this statement.
The thing is, Sarkissian had so far refrained from giving any public explanation about his sudden decision about backing away from the EU deal. And he finally speaks and characteristically, does so as far away from Armenia and the Armenian people, as possible.
That is a clear indicator just how much the Armenian president cares about the opinions of his people.
Secondly, Sarkissian's statement burns me with its cynicism. Its like – hey, EU, you're overreacting and we didn't know and we still don't see why…
PS: Sarkissian had other very interesting statements as well. For one thing, he warned Baku over Karabakh. Sadly, however, all political discourse in Armenia for the next 10-20 days will likely rotate around opposition MP Zaruhi Postanjian's humiliating question to Serzh Sarkissian in front of the PACE delegates.