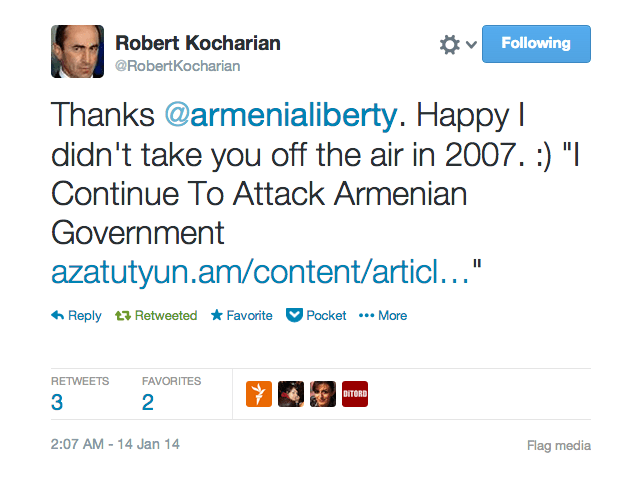 The tweet from Twitter account Robert Kocharian with the about line indicating "Natural Born Killer" made my day today. It was funny, I admit. But that was the only funny thing today.
The user hadn't tweeted for quite a while and its return coincided with a major political development — one of the three worst presidents Armenia has ever had (you're right, we've only had 3 presidents so far) is back in the political arena.
"Kocharian slammed the government for secretly subsidizing the price of natural gas purchased from Russia and warned that its recent agreement with Gazprom could turn the Armenian energy sector into a "hostage" of the Russian gas monopoly. He also deplored an ongoing controversial reform of the national pension system that has sparked street protests in Yerevan."

Via Azatutyun.am
Conspiracy theorists have sprang to life with endless speculations. Most theories they come up with are much smarter than either the Ex-President Robert Kocharian or the incumbent President Serzh Sarkissian would intellectually be capable of comprehending, so I just discard those.
One thing is clear, while Kocharian is using the opposition language, he would never do so without the prior consent and agreement from Serzh Sarkissian. There are too many dreadful secrets linking this inseparable duo: the Armenian Parliament Shooting of October 27, 1999, the killings of March 1, 2008 to name just a few.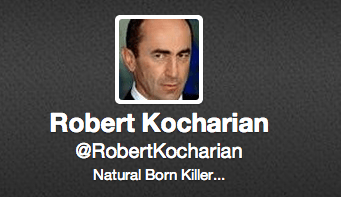 And the worst part is the realization that there's no real power as of this moment to stop the repetition of the well tested Putin – Medvedev scenario from repeating in Armenia. All we have left is lols and laughs at the funny comeback of the Twitter user @RobertKocharian — "The Natural Born Killer" just like it promised (or perhaps threatened?) a couple of years ago…