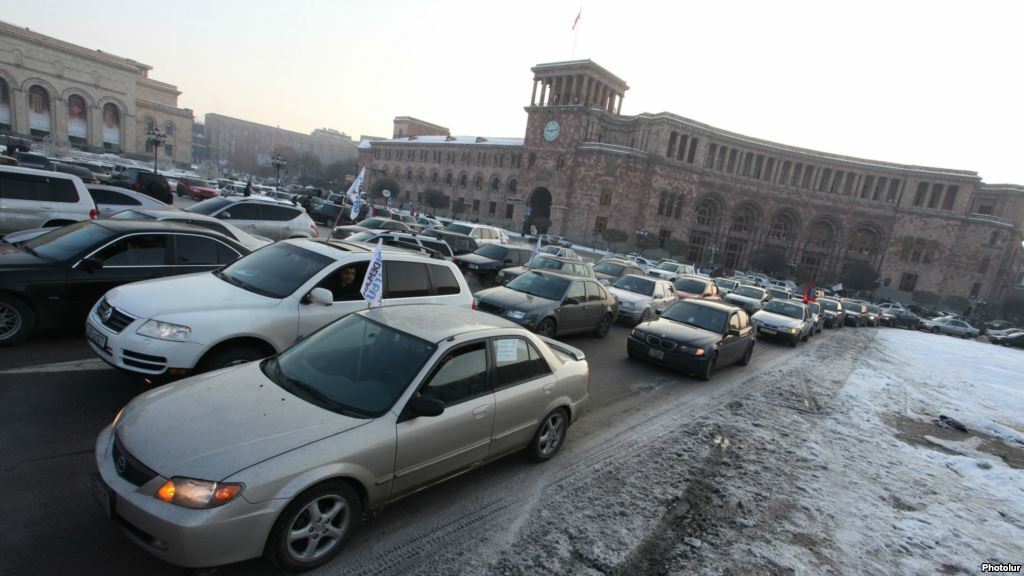 The Armenian police tried to intimidate activists struggling against the government's controversial pension reform by making phone calls and paying intimidating visits to photograph their cars after they took part in an automobile demonstration yesterday.
Dozens of cars circled in Yerevan's central Republic square on Thursday for more than an hour waving "I am against" banners and inviting attention to the rally slated for Saturday. The automobile demonstration caused a traffic jam and the police tried to stop the protest action by writing down their license plate numbers.they failed to explain why all the 'writing down' was done. Today they apparently used those numbers to go after the protesters. This was a 'punish and prevent' action: punish for yesterday and prevent them from taking part in tomorrow's rally. The actions of the police are rather half-hearted and meaningless. They know they are not scaring anyone and not doing anything to prevent tomorrow's rally. What they are doing is using the PR opportunity to show to their masters that they are doing something (sadly the Armenian police still doesn't consider the Armenianpeople as their master).
A large rally is expected to be held Saturday in Yerevan's Liberty Square. It is co-organized by anti-pension reform protesters and 4 parliamentary parties — Prosperous Armenia, Armenian National Congress, ARF Dashnaktsutyun and Heritage.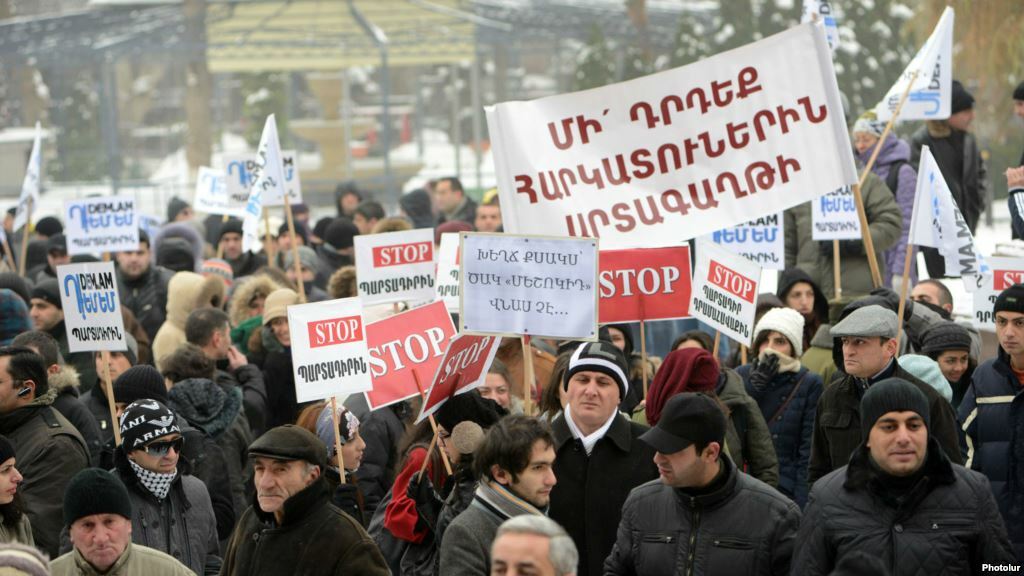 The new pension laws, effective since January 1, require Armenians under the age of 40 to pay significantly more social security taxes, which will be managed by State-authorised private investment funds and be used in the future to pay pensions.
Hundreds of young professionals have been demonstrating against the measure in the past couple of months.
Parliamentary opposition as well as the Prosperous Armenia party seized on the opportunity to join the anti-government protests. And although nothing serious is expected to come out of these protests, and certainly no changes of the pension laws, the parties apparently are seeing a good PR opportunity.
The only people who are serious about the rallies are the civil activists. Howerver, they lack strong leadership and clear messages, and the politicians are doing a disservice to them by speaking on their behalf with their faces, which are known to the people as the faces of the past failures.