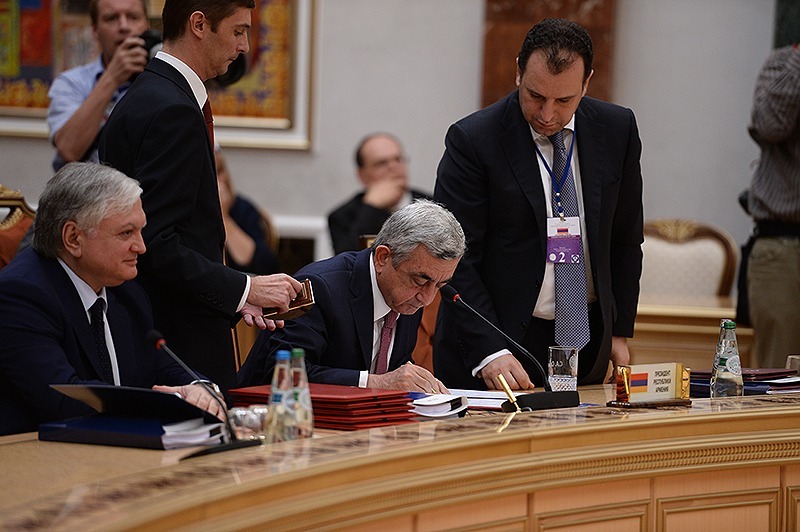 It was hardly a surprise for an average Armenian to learn on Friday that the country's President signed the agreement to join the Eurasian Economic Union (EEU) of Russia, Belarus and Kazakhstan. Here's why: Russia's president Vladimir Putin wanted us there and the Russian Tzar always has his way here in Armenia; our so called Public TV touted the benefits of joining the Russia-led block for a whole year; all the political analysts said it is the only way to save Karabakh; our relatives in Russia said it is great for sending money transfers and job prospects for them and the major opposition forces refused to speak against Moscow's decision to pull us back into the USSR swamp.

Of course, when faced with a choice between the European Union and the Eurasian Economic Union (read Russia), most Armenians I know will pick the EU. That makes perfect sense, because everyone loves Mercedes and all hate LADA.
But we have known Russia long enough to understand — there is no choice. Ukraine is too big of an example to neglect. And lest someone should forget, Russia's 102 military base in Gyumri announced on Friday (the day when Armenia's president signed the document about joining the EEU) the start of new military drills which will involve 3,000 soldiers, 500 units of military hardware and an unspecified number of MiG-29 fighter jets.
The Sovereignty Issue
There are fierce debates in the Armenian section of Facebook about the reluctance by opposition leader and the First President of Armenia Levon Ter-Petrossian to speak against joining the Eurasian Union. Many accuse Ter-Petrossian for giving up on Armenia's independence which he himself established.
I do find such accusations silly, because Armenia didn't get into this mess in one day. We all watched how Armenia turned into a hostage of Russia. It started in the 90's when Ter-Petrossian negotiated for the Russian troops to be based in Armenia and guard our borders with Turkey. The truly irreversible damage was done when the Second President Robert Kocharian sold all key infrastructure to Russians, including gas, hydro and nuclear power, electricity distribution networks, telecom and rail communication systems. Serzh Sarkissian sealed the deal by extending the Russian military presence in Armenia for another 50 years and giving it additional bases in the form of Erebuni airport and such.
The Facebook-critics of today weren't able to generate a coherent response in due time as Armenia was de facto losing its sovereignty. Today Armenia lost its sovereignty only de jure. Frankly, attempts to make a fuss out of it NOW are plain stupid. We all would do better to stop talking and finally start doing something: organizing into groups, evaluating the situation, coming up with an action plan. For one thing, that's exactly what the much criticized Ter-Petrossian is doing right now. The veteran politician knows that he's back into the Soviet reality he once defeated and I'm pretty sure he, of all the people, has a plan…
PS: We are but dust in the wind. All we can hope for, is that Kazakhstan and Belarus are stronger in pursuing their national interests in the newly created Eurasian Union and by doing so help Armenia retain the fractured bits of its pride and sovereignty…