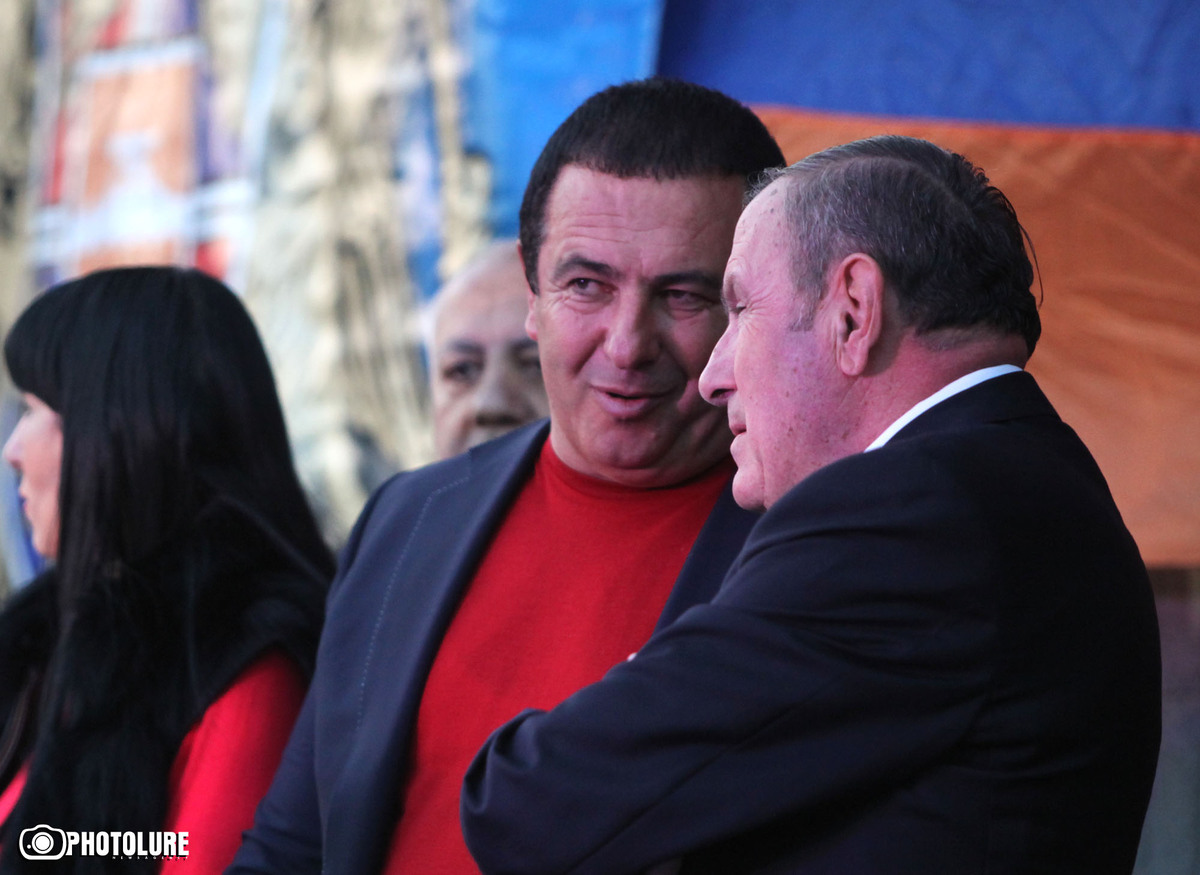 Three non-government parliamentary parties staged a demonstration of power on Friday, as they organized the most bewildering of political rallies I have ever seen in Armenia.

Consider this: the rally was organized by the "Prosperous Armenia" party led by government connected tycoon Gagik Tsarukian, radical opposition party "Armenian Naitonal Contress" led by former president Levon Ter-Petrossian and the opposition party "Zharangutyun" headed by controversial former presidential candidate, former Foreign minister Raffi Hovhannisian.
On Thursday, ahead of the rally, Tsarukian had unexpectedly expressed readiness to run for president. And he put his heart and money into making sure the number of people at the rally is impressive by busing in supporters from the regions, especially Kotayk, which is his stronghold. But he left most of the talking to Ter-Petrossian at the rally, by giving a vague promise to speak about everything at the next rally.
Meanwhile, Raffi Hovhannisian seemed to be somewhat isolated. Furthermore, there seemed to be a degree of tension between Raffi Hovhannisian and Levon Ter-Petrossian. This was especially evident after Hovhannisian strongly criticized Armenia's president Serzh Sarkissian for signing the accession treaty earlier on the day and formally joining the Eurasian Union.
"5 years ago today he forced the signing of the protocols, which went counter the state interests, were unconstitutional and were the continuation of the Moscow and Kars treaties of 1921," the former foreign minister stated. "Today he put is void signature under a document, which sold out Armenia's independence and soverignty," Raffi Hovhannisian added.
In an arrogant response Ter-Petrossian ridiculed attempts to stand against the Russia-led block of autocratic former Soviet states. Even though Ter-Petrossian's logic makes perfect sense to me, I couldn't help but notice the way he made his point.
"The movement will focus solely on solving internal matters  of our country and will not set out to seek geopolitical orientations, hence we will not speak of that topic during future public events," he explained. "The reality is that there is no such issue in Armenia's political agenda, because, as I have stated in one of my earlier speaches, Armenia's membership in the Eurasian union is an irreversible reality. And the tremblings of two-three dozen individuals regarding this matter are becoming ridiculous, because those two-three dozen people can achieve nothing, but poison people's minds, and in no way can they dictate political agenda," Ter-Petrossian concluded.
Admittedly, Raffi Hovhannisian has done much to deserve such an attitude. He practically handed presidency back to the authorities last year and did it in the most ridiculous way, all in the name of avoiding bloodshed. However, the attitude Ter-Petrossian gave him today was outward impolite, as if to show that he is not wanted in the opposition Trio of political forces.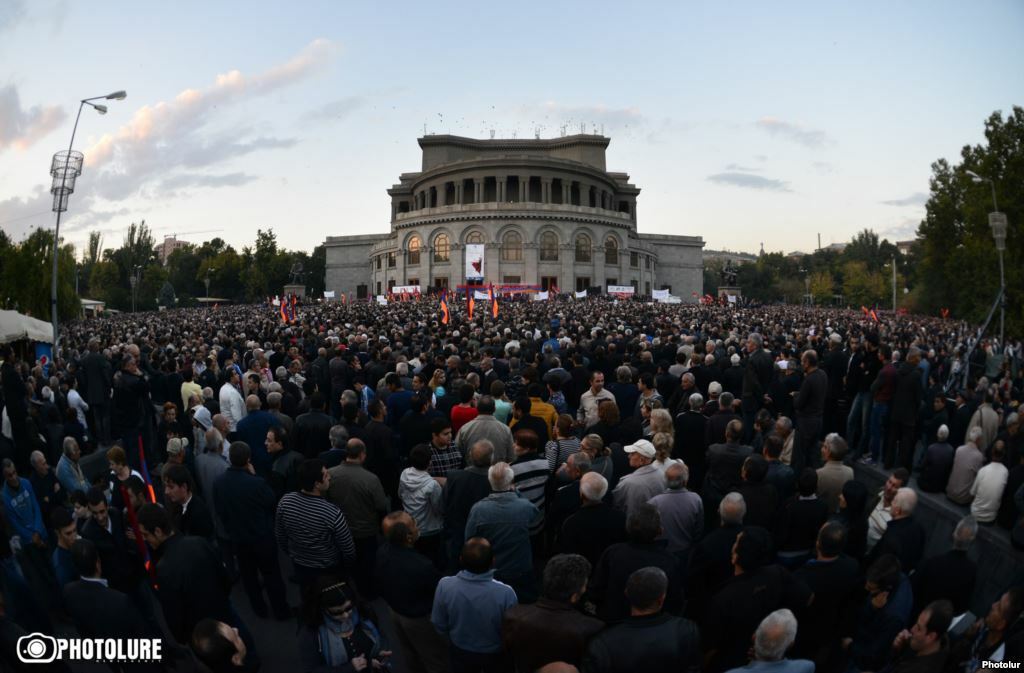 PS: The main demand, or rather warning set forth by the rally was a call to president Serzh Sarkisian to negotiate his exit from power or face a "wave of civil disobedience." All other speeches and demands were rather vague. However, in my opinion, this rally wasn't about demands, calls, etc. This rally was a demonstration of power and a pretty successful one at that.