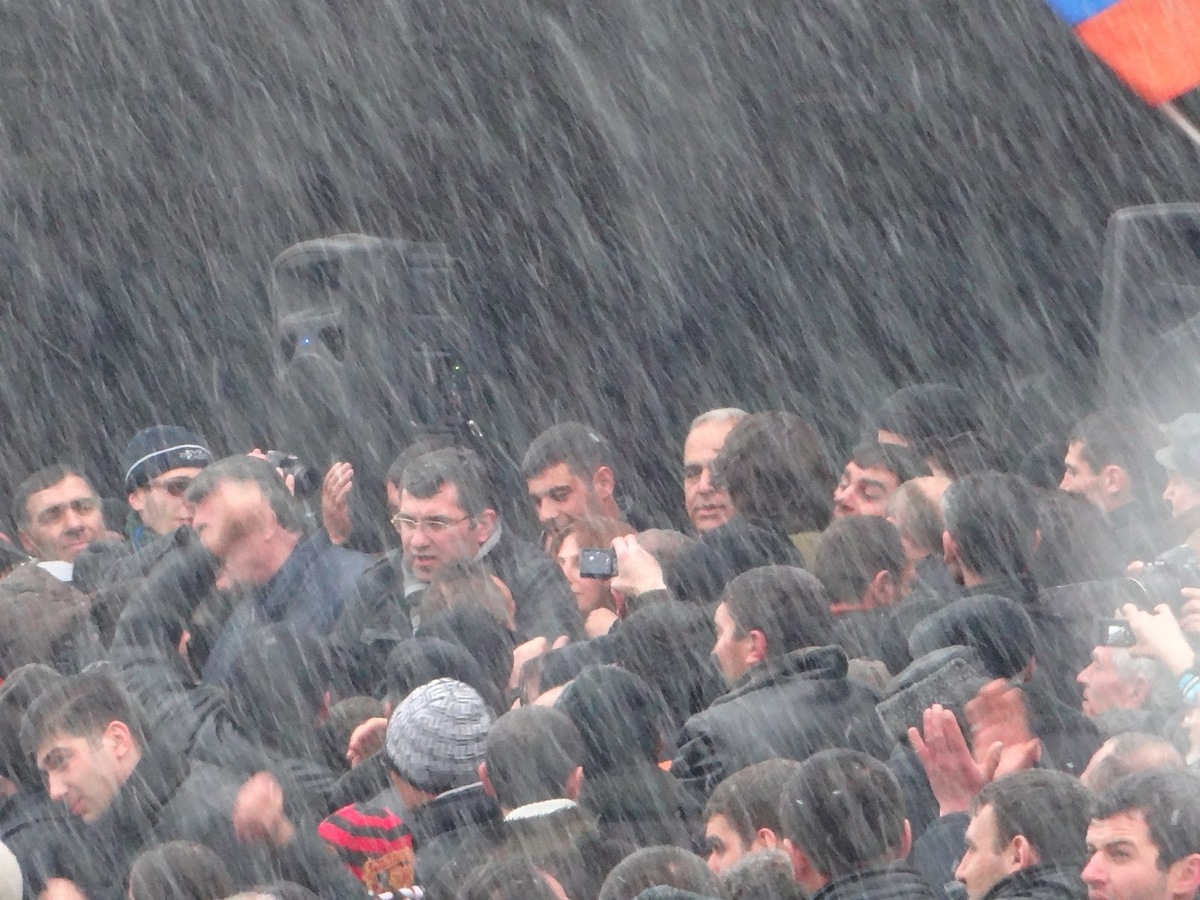 Preface: I haven't got a clue as to what's the right way to lead political struggle, nor do you, neither does Levon…
Barev. I can't help comparing current situation with the developments of 2008. And mixed ideas spring to mind. Why do we think, that the only correct way is to get stuck in the square day and night and serve as body-count. The opposition was trying to bring as many people as possible from the regions, to boost our numbers at the square, but perhaps it would make sense to hold rallies in the regions? I really like the idea of holding a rally in Gyumri.
When your struggle isn't attached to a certain location from the onset, you can be more flexible.
What Levon did is counter the Liberty square to the Presidential palace and as a result, he became a captive of the square.
Unlike him, Raffi is using a 'cloud technology' approach to the struggle. He has splashed it all over the streets of Yerevan and now he has taken it out from the capital to Ashtarak, Vanadzor, Gyumri. If he continues along those lines, it my turn out in the end, that all of Armenia is Raffi's space, while Serzh will become constrained to the Presidential palace. This will create a cardinally different situation than in 2008.
I also like the fact, that Raffi is not turning up his nose, but instead is running around, walking, organizing things, meeting people. He is operating in a much more flexible and interactive manner. In a sense, he is employing a Struggle 2.0 approach.

I consider that his meeting with Serzh, for example, gave him an advantage. If the tensions grow now, everyone will see that this is Serzh's fault, who is not taking any constructive steps and is running away from dialogue.
In the end, all that matters is the result. Who knows, maybe it is indeed possible this way…
About the Author
Mikayel Ghazarian aka Mk.am is a web developer, allergic to dictators.
The original post is here.  Translated by A.P.