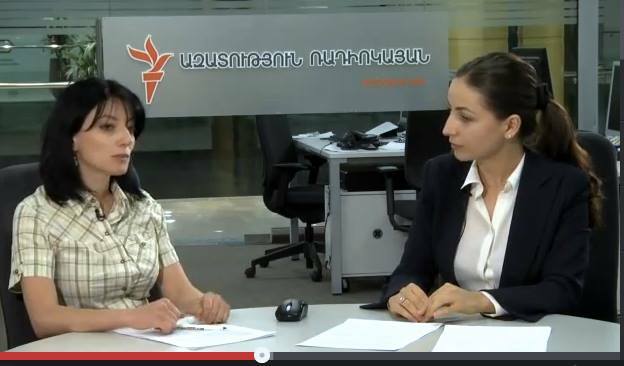 RFE/RL's Armenian service (Azatutyun.am) aired the first issue of its brand-new "Lratvakan Kentron" (News Center) prime-time TV news program on September 30th, at 20:00.
The 45-minute full-featured show was moderated by one of our top journalists, Ruzanna Stepanian, who went live from Azatutyun's headquarters, complete with a talk-show style live guest-in-studio and a live connection to our filming crew out in the street, covering a protest-event related to the possible price-hikes of public transport in capital Yerevan.
This show has been a 'dream' project since the days we pioneered the Internet TV effort in Armenia.
The News Center will be broadcast every weekday, from Monday to Friday, featuring invited experts, analysts and politicians, live connections and Azatutyun's journalists giving the context to their stories live in the studio with the show-host.
Additionally, Azatutyun plans to use the prime-time news hour to feature a Saturday rebroadcast of a recorded show — Anna Israyelian's "Crossroad of Opinions" (soon to become live) and on Sunday RFE/RL's Armenian service director Harry Tamrazian will bring the week together with a news roundup and analysis of the top events throughout the passing 7 days.
[youtube=http://youtu.be/75x_pd2ebBk]
PS: The "News Center" is being launched at a critical moment for Armenia, as the country prepares to join the club of some of the most repressive regimes in terms of media freedom in the world. And so I'm really happy to be part of this effort by Azatutyun, which I believe has a role to play in making sure the achievements of the past years will not be lost and some level of freedom of speech and expression will remain in this country.