Looks like the 'big, fat, Armenian wedding' held in Nagorno-Karabakh in 2008 is starting to bear fruit. Karabakh Prime Minister's Spokesman Artak Beglaryan cited census data yesterday, according to which the population of the self-proclaimed republic has reached 151,000. That's a growth rate of 10% in 10 years.
Karabakh government has been putting policies in place to stimulate population growth for years now to make it less vulnerable in case of renewed war with Azerbaijan. Reward schemes for having children and helping young families with housing are some of such measures.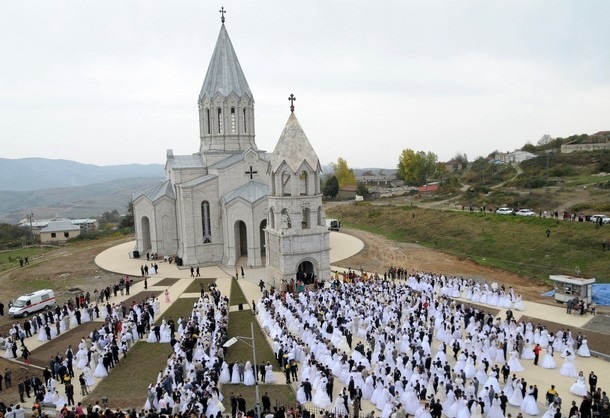 The largest stimulator of population growth was the mass wedding that was organized and sponsored by a Moscow-based Armenian businessman Levon Hayrapetian on October 16, 2008. The Karabakh-born entrepreneur had 678 local couples marry in a single open-air ceremony. Hayrapetian covered their wedding expenses and paid each couple $2,500 as a bonus.
The impact of the initiative was felt in Stepanakert 1 year after the event, when the maternity hospital of Karabakh's capital struggled to cope with an increased inflow of child-births.
Check out Beglaryan's tweet below with this very positive news!
Good news!
Census shows #Karabakh has 151,000 population, 10% growth in 10 years.
Baby boom worked.
Faster growth is needed.#NKpeace

— Artak Beglaryan (@Artak_Beglaryan) March 30, 2016