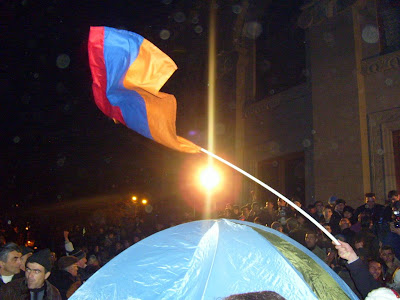 Opposition supporters are dancing around the tents in the Freedom Square © Photo by Artur Papyan, Yerevan, 2008
Following a rally which lasted several hours, starting at 15:00 which gathered dozens of thousands of supporters, Armenian opposition leaders announced a timeless sit down protest in the Freedom Square, in front of the Opera House. Nikol Pashinyan, making the announcement, demanded, that the mayor of Yerevan Yervand Zakharyan and the head of RA Police Hayk Harutyunyan send police in uniforms to ensure the security of protesters.
Earlier speeches were made by main opposition leaders and Levon Ter-Petrosian, claiming that the vote has been rigged. Interestingly, presidential candidate Artur Baghdasaryan's campaign manager Heghine Bisharyan also spoke (despite recent mutual offenses exchanged between Levon Ter-Petrossian and Artur Baghdasaryan). In her speech she declared, that Artur Baghdasaryan had always been with the nation and the ballot papers were being re-counted at all election districts, as a result of which "the number of votes of our candidates is increasing".
Rally attracted around 25,000 people at its peak – at around 4 p.m. During my last visit, when the sitting protest was declared, the amount of people had seriously decreased – there were 5000 people at most. However, the atmosphere was cheerful – tents could be seen here and there, and people were dancing to loud music.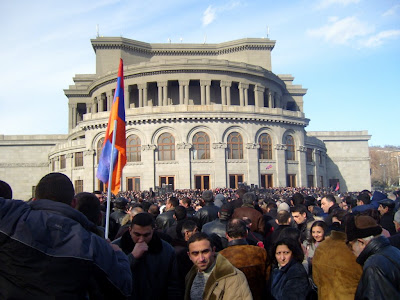 Opposition rally in the Freedom Square © Photo by Artur Papyan, Yerevan, 2008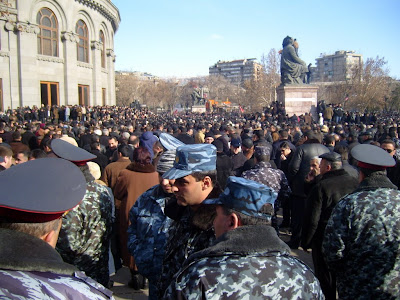 Opposition rally in the Freedom Square © Photo by Artur Papyan, Yerevan, 2008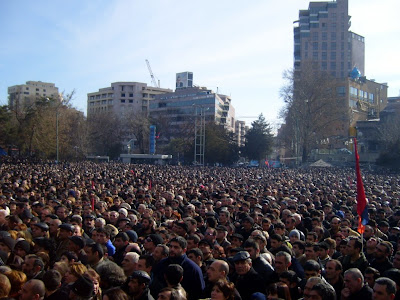 Opposition rally in the Freedom Square © Photo by Artur Papyan, Yerevan, 2008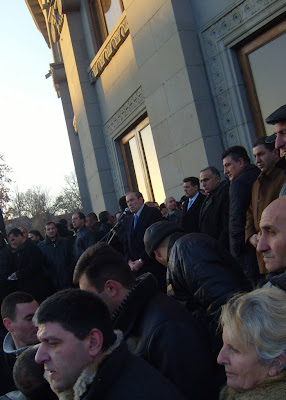 Ter-Petrossian Speaking, Opposition rally in the Freedom Square © Photo by Artur Papyan, Yerevan, 2008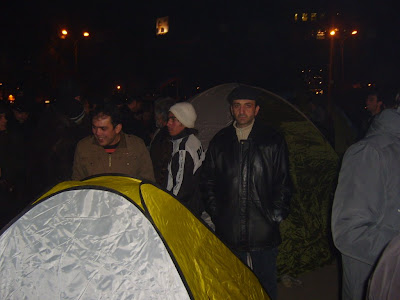 About 10 tents already set up in the Freedom Square © Photo by Artur Papyan, Yerevan, 2008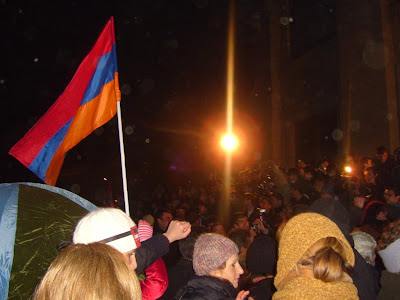 Opposition supporters clapping and dancing in the Freedom Square © Photo by Artur Papyan, Yerevan, 2008