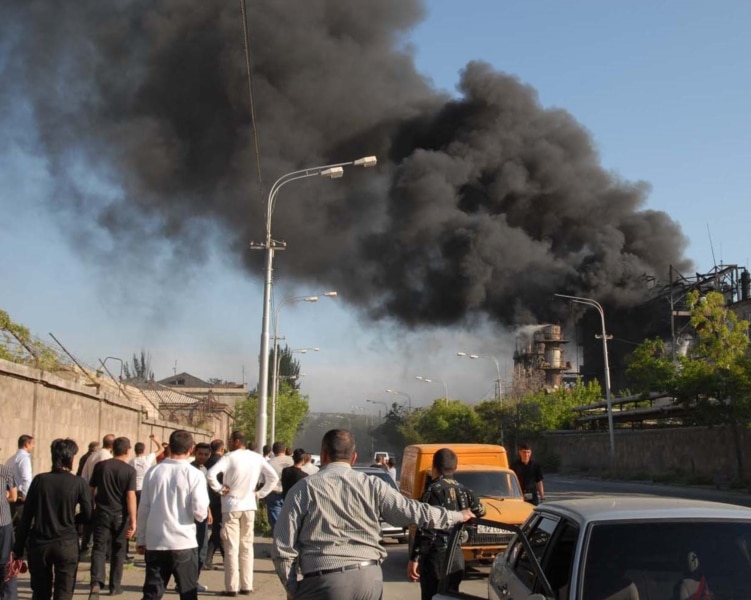 As of this morning fire is extinguished in Nairit Chemical Plant in capital Yerevan. 4 dead, 8 injured as a result of two explosions which rocked a rubber production plant at the chemical factory. Investigation is underway to reveal the cause of the tragic. Emergency officials say there is no danger of toxic smoke in Yerevan, although the air smelled of chemicals as of 2 AM this night.


The first explosion hit the factory at 18:40. 4 people were working in the plant were the explosion took place. All 4 have died. By 19:15 about 15 fire brigades were at the chemical factory, closer to 23:00, when the fire was finally extinguished, there 20 fire brigades, all emergency services were at the plant. A second explosion hit at 20:30. 17 firefighters were reported to have received injuries.
Ministry of Energy and Natural Resources, General Prosecutor, other high ranking officials arrived at the Chemical factory. A commission was formed immediately to evaluate the situation and potential dangers. Overall, the emergency services seem to have handled the incident well.
This is not the first emergency at Nairit. Here's some background from RFE/RL:
The chemical giant periodically faces emergency situations blamed on its obsolete Soviet-era equipment and poor safety standards. In one such instance, two Nairit reservoirs containing inflammable industrial waste caught fire that raged for two days before being extinguish by firefighters in December 2006. Nobody was seriously hurt at the time.
The latest accident came just one month after Nairit resumed its work following a nearly five-month stoppage blamed by its management on the global economic crisis. The plant employing more than 1,000 people at present had struggled to survive even before the crisis despite numerous changes of ownership and management. It is currently owned by the British-registered firm Rhinoville Property Limited.