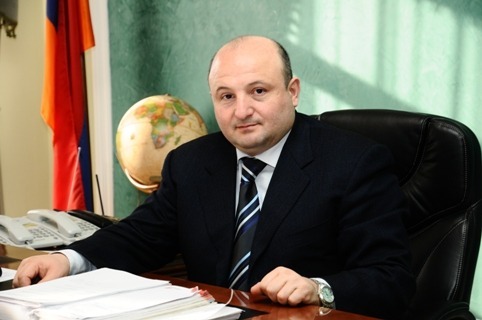 Gyumry mayor Vardan Ghukasian announced on Monday, that his family is ready to contribute all the money necessary to acquire great Armenian poet Hovhannes Tumanian's house in Tbilisi and hand it over to Armenia's Writers' Union to be turned into a literary, cultural center and library, Aravot.am reports.
Hovhannes Tumanian, THE greatest Armenian poet and writer of last century, used to live in a 120 sq/m flat in Tbilisi for several years. Consequently, the house turned out to be the property of a Georgian, who said he's ready to sell the house. Rumor has it, that a Turkish buyer had appeared, which caused quite a stir in Armenia last month. Many Armenians felt strongly, that Armenian government or benefactors should purchase the house and not let it fall into the hands of a Turk and Turkey, Armenia's arch-rival.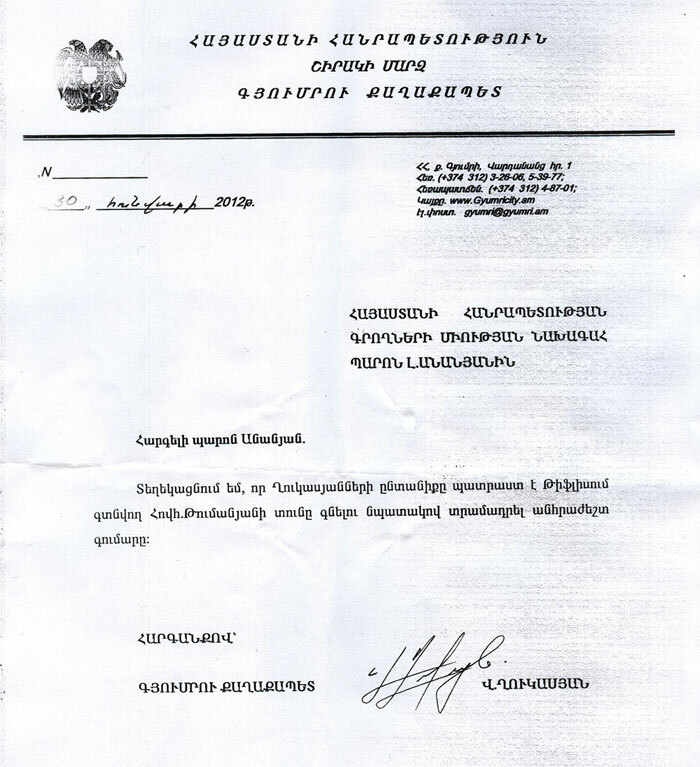 Soon it became clear, that Gagik Tsarukian, Armenia's richest oligarch is ready to sponsor the $100,000 purchase. But Asekose.am, a portal which is known to spread a lot of gossip and false information, has published a curious entry, claiming, that Tsarukian has been prevented from buying the poet's house ahead of the upcoming parliamentary elections, in which his "Bargavach Hayastan" (Prosperous Armenia) party is expected to come second after President Serzh Sargsyan's Republican party. The authorities had worries, that Tsarukian would make the house purchase a political propaganda issue as the election approaches, Asekose.am claims.
The same source speculates, that Gyumri mayor is being punished for the recent scandal related to to opening of his luxary hotel Alexandrapol.
PS: As an inhabitant of Gyumri, I have to note, that Gyumri mayor frequently does beneficiary work: he covers tuition fees for many Gyumri students, distributes food and assistance to the poor in Gyumri and more. However, his interest in Tumanian's house in Tbilisi is surprising, considering the fact, that Tumanian is from Lori region and Gyumri has its own famous poets. So in this light, the rumor by Asekose.am looks like a reasonable explanation too.