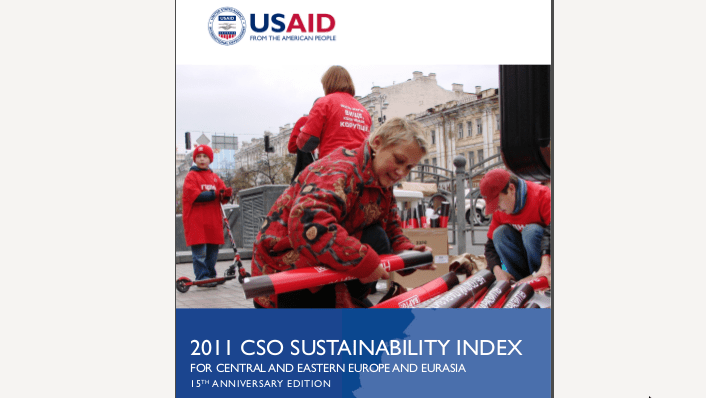 US Ambassador John Heffern mentinoed in a recent videoblog, that according to a USAID survey, the Civil Society in Armenia is "the second strongest anywhere among the republics of the former Soviet Union."
I asked the Ambassador for details on Twitter and was kindly provided with a link to a very interesting document entitled: "The 2011 CSO Sustainability Index for Central and Eastern Europe and Eurasia," covering about 30 countries, including Armenia.
NOTE: The more commonly used term NGO (Non-Governmental Organizations) is basically exchanged with slightly broader term CSO (Civil Society Organizations) in the report.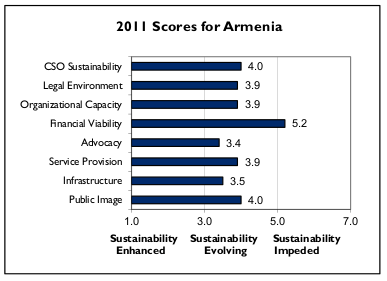 "CSOs in Armenia faced pressure on numerous fronts in 2011. The state increased pressure on CSOs in response to a variety of active advocacy campaigns. At the same time, a number of publications and TV programs presented human rights and watchdog CSOs as donor-driven organizations that misuse grants," the Armenian section of the report says. "International donor support to CSOs increased in 2011. However, most of the funding targets specific activities and projects, thereby leaving CSOs with very few resources to cover their administrative or overhead costs. The lack of sustainable long-term funding exacerbates CSOs' problems with staff retention and reduces CSOs' institutional capacities. Despite these challenges, CSOs organized more successful public discussions and advocacy initiatives through social networks in 2011," it goes on to say.
One of the more interesting findings in the report for me was this: "According to the Ministry of Justice, there were 3,749 public organizations, 750 foundations, and 301 legal entity unions registered in Armenia in 2011. However, only about 15 to 20 percent of these institutions are estimated to be active."
Another interesting discovery was finding out, that the Armenian state bodies are among the largest financial donors for CSO's. "In total, the state provided approximately $8 million of support to CSOs in 2011. The majority of this support is granted to sports federations and state-funded or state-operated organizations on a non-competitive basis. Certain CSOs, particularly those providing social services to the elderly and disabled, also receive regular government funding through ministries. Presidential Funds provide approximately $250,000 a year for anti-smoking campaigns, and the Ministry of Culture awards $25,000 to ethnic minority CSOs."
As for the Ambassador's remarks, which got me interested in the first place, the report indeed shows Armenia has second highest scores after Ukraine in post-Soviet area (not including the Baltic states). Surprisingly, the Armenian CSO's are even ahead of Georgia, which seems to beat us in every other democracy-related area in various international reports. The Azerbaijan section of the report is also worth reading.
PS: The Organizational capacity and Public image sections of the Armenian report were especially interesting to read.