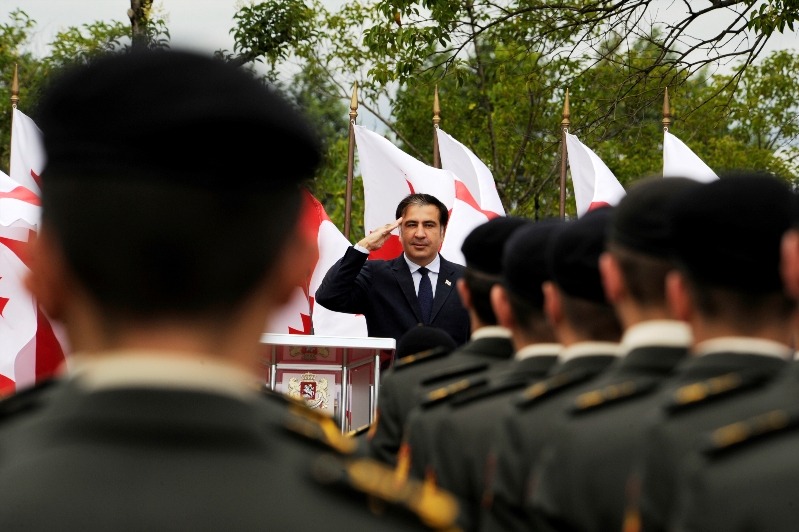 Georgian President Mikheil Saakashvili gave an interview to Kanal PIK last week, speaking about a range of topics, including the Russia-Georgia 2008 war, Georgia's reforms and answered to a personal question about his nationality.
The whole interview is worth watching (in Russian) as well as reading (click here for the English version). But I want to draw your attention to this particular section:
Journalist Mikheil Tavkhelidze: Last question is a little personal: are you Armenian?
President Mikheil Saakashvili: I always tell them that if you hate Azeris – I am Azeri. If you hate Armenians – I am an Armenian. If you hate Jews – I am the greatest Jew in the world. In any case, I will always remain the biggest patriot of Georgia. When people talk about ethnic patriotism, no one can resist the authority of David the Builder. I always say that David the Builder gave all the religions equal rights. He went to the mosque, to the synagogue, to this church and that church. He was the King of Georgia. What about this? The people who are more or less decent just get lost, because it was really like that. Georgia is a mixture of everything. That's why we are a very perspective country. We are a small country, but we have united many cultures for centuries. There are traces of all these cultures here and I am very proud of it. I literally feel it all in me. My family comes from various parts of Georgia, both the East and the West. Eastern Georgia is more straightforward and harsh. Western Georgia is more inclined to compromise. So, there are 2 features in me – the Mingrelian one, which is more peaceful and calm, but there is something totally different on the other side. Everything is united in me, but life is more interesting like that. Different origins are fighting inside of me.
Saakashvili has directly denied being Armenian in the past. This time his answer is more vague. Still, kudo's to him for such a diplomatic answer.
The question is, however, why do Georgians continuously speak about his Armenian origins and why does it matter so much?
The issue is very complex, but here are a couple of quick points, the way I see it.
In the recent years there seems to be growing anti-Armenian sentiment among Georgians, which is encouraged by some Georgian Church Clerics. There are at least 6 disputed churches in the territory of Georgia, which are claimed both by the Armenian and Georgian churches.
Georgian economy is increasingly benefiting from ties with Turkey and Azerbaijan, which are both in conflict with Armenia.
There is also the issue of Armenian populated Javakheti region in Georgia and some calls by nationalists both in Javakheti and Armenia to have more Armenian involvement in the area and give more powers to local self-governmto the region, which irritates some nationalistic forces in Georgia who don't want to see a repetition of the situation with Abkhazia or South Ossetia.
At any rate, over the past years the word "Armenian" has even been used as an offense in Georgian parliament.
And there, again, the question asked to Saakashvili…
It seems both to be a way to offend him, as well as to turn the anti-Armenian sentiment against Saakashvili and exploit it in the dirty game of politics.
At any rate, this time Saakashvili didn't deny it, which doesn't really mean anything. Or does it?