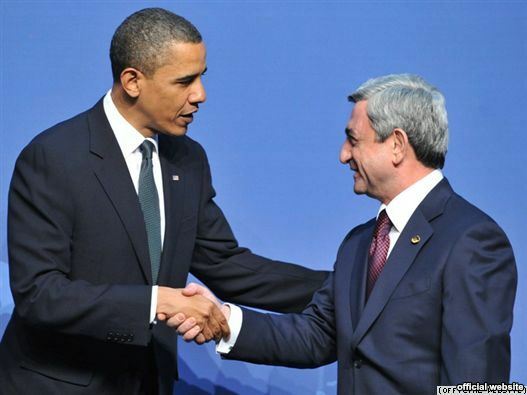 Armenian President Serzh Sarkissian received congratulatory message from the President of the USA Barack Obama on his reelection, amid doubts about the election process voiced by international observers and human rights watchdogs.
"I would like to congratulate you on your reelection as President of the Republic of Armenia. I look forward to continuing our work together as we both begin our second terms," Obama wrote.
"We will continue to strongly support progress in the Nagorno-Karabakh peace process, which requires meaningful movement toward a settlement that provides lasting peace and security. We also want to continue our work to promote the eventual normalization of Armenian-Turkish relations," the US President added [emphasis is mine].
Questions and Criticism
Observers from the Organization for Security and Cooperation in Europe (OSCE) on Saturday questioned the credibility of official results of Armenia's presidential election, saying that President Serzh Sarkisian benefited from "implausibly high" voter turnout recorded in many precincts. The report of the international observers was probably influenced by the Policy Forum Armenia's very telling findings.
The Armenian authorities have reacted by saying high turnout was recorded in polling stations, which are either very small, or are based in penitentiaries or places, where soldiers are voting.
International human rights watchdog Amnesty International has joined the local Armenian human rights organizations in criticizing Armenia's election, citing intimidation and threats of use of force against voters and observers, threats against journalists and prevention from carrying out their journalistic duties on the elections day.
PS: As criticism mounts against the Armenian authorities for their handling of the elections, congratulatory letters like Obama's serve as the main bases for Serzh Sarkissian to legitimize his disputed reelection. So it seems natural that foreign governments go explicit about what they expect of Armenian authorities in the next 5 years.