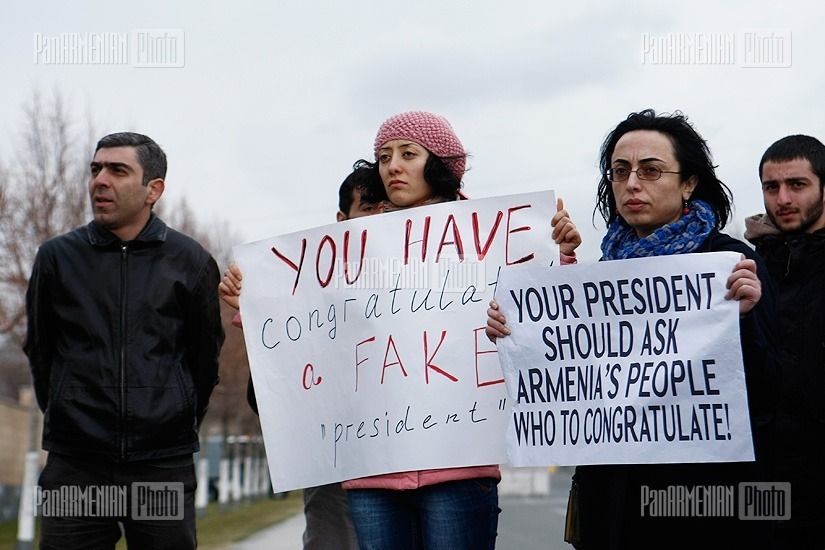 A group of human rights activists, among them recipients of US State Department's Universal Rights Awards, staged a protest-action in front of the US Embassy in Yerevan to express outrage over US President Barack Obama's congratulatory message to the Armenian President Serzh Sarkissian for his reelection.
The activists represented most major civil groups in Armenia, including the group fighting for justice in murder of a military doctor in Republican MP Ruben Hairapetian's "Harsnakar" restaurant (about 4 thousand members),  "The Real Army" group fighting against human rights abuses in the Armenian Army (547 members), environmental groups "Save Teghut" (7458 members) and "Trchkan" (4652 members).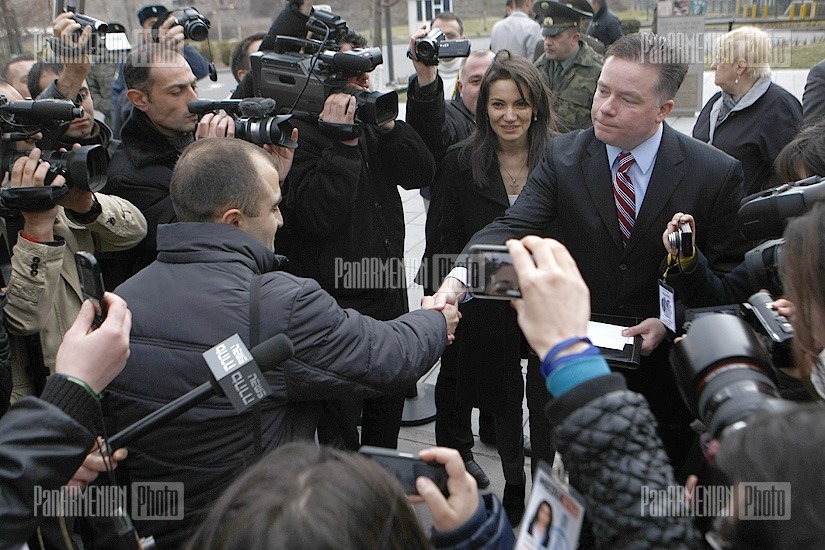 Activists, including Universal Human Rights prize winners Tsovinar Nazarian and Ruzanna Grigoryan, carried banners with slogans: "You have congratulated a fake president" and "Your president should ask Armenia's people who to congratulate."
Activists handed a protest letter to an embassy representative.
Ready to Hand Back the Prize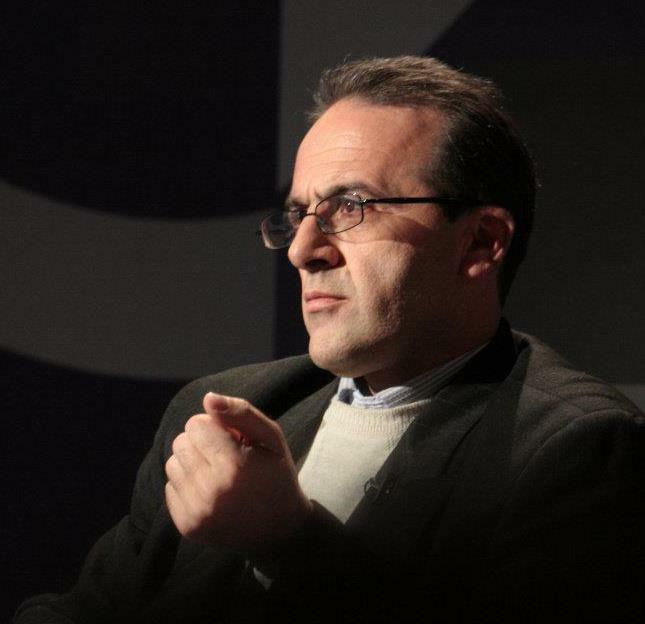 Artur Sakunts, another recipient of the Universal Rights Awards, said he is considering the option of handing back the prize in sign of protest.
"Your congratulation is absolutely inappropriate for these elections, which were accompanied by flagrant fraud and violations," Sakunts, the Chairman of Helsinki Citizens' Assembly Vanadzor office has written in his open letter to the US President.
The human rights activist has also expressed doubts about the value of the award he has received from a government, which is "apparently siding with an oppressor of freedom" and said he is considering returning the prize back.
What's The Point?
As the world superpowers rushed to congratulate Serzh Sarkissian and international election observation groups gave overly positive assessments of the February 18 presidential vote, Armenian civil society has been very vocal about human rights violations and election irregularities.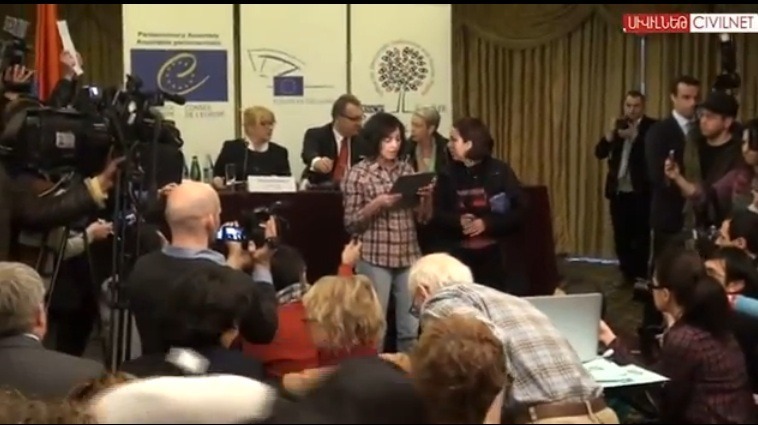 The protest action by activist Lena Nazarian during the press-conference of international observers,  Policy Forum Armenia's report  revealing a mathematical connection with incumbent president Serzh Sarkissian's wins in polling stations where abnormally high voter turnout was registered, were certainly behind the OSCE/ODIHR's change of opinion and questioning of Armenian vote results.
PS: I very much hope, that today's action by the country's largest civil groups, along with Artur Sakunt's letter, will have an impact on the international evaluations of Armenian elections. After all, the Armenian authorities went out of their way to turn a pretty face to the outside powers. So why not get serious and demonstrate to the Armenian authorities that tricks of this sort only work in a circus?