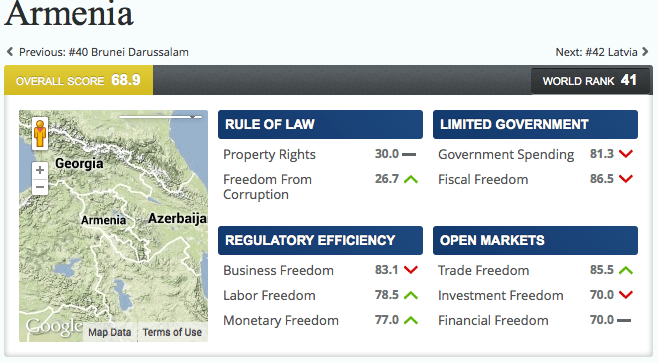 Armenia's economic freedom score is 68.9 according to the Index of Economic Freedom 2014, making its economy the 41st freest in the world. This annual index and ranking is created by The Heritage Foundation and The Wall Street Journal in 1995 to measure the degree of economic freedom in the world's nations. The question is — does it tell us the full story?
"Armenia's overall score has declined by 0.5 point from last year, primarily due to combined deteriorations in investment freedom, business freedom, and fiscal freedom," according to the Index published yesterday. "Over the 20-year history of the Index, Armenia has improved its economic freedom score by 26.7 points, the fourth largest score increase," the Armenian section of the Index says.
Hence, over a period of 20 years Armenia has advanced from "economic repression" to a "moderately free" economy, which is a pretty good score: Armenia is ranked 18th among the 43 countries in the Europe region, and its score is above the world and regional averages.
However, one thing the authors of the Index have probably overlooked, is the fact, that Armenia's Prime Minister Tigran Sargsian has a 'thing' about report. He loves them, he cites them and holds them as examples of accomplishments by his by and large failed government. In fact, on a couple of occasions in the past the PM and other Cabinet members have confessed to adopting certain regulatory changes with the aim to impact Armenia's score in economic reports like "Doing Business", Economic Freedom Index and the like.
This is probably the reason why Armenia's economy, which is dragged down by oligarchs and Russian-owned monopolies, is described as "moderately free" even 3 months after Armenia signed a treaty with Russia's "Gazprom" depriving our economy of any freedom to control our energy sector and/or negotiate more favorable gas deals for the next 30 years.
Let's just wait and see if Tigran Sargsian's manipulations of international reports will continue to render results after Armenia joins the economic union with Russia, Belarus and Kazakhstan, all of which have significantly worse economic freedom rankings than us.