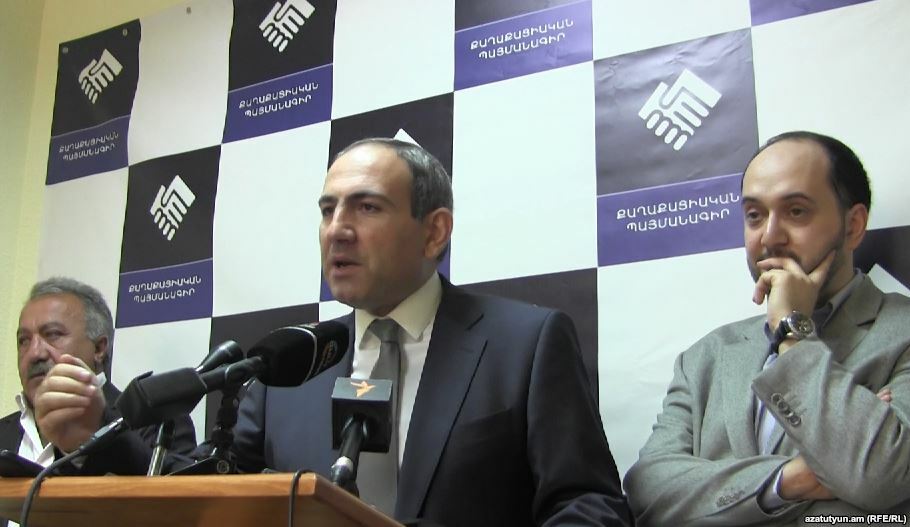 The problem with blogging in a small country like Armenia is that eventually you'll have to blog about your friends and it becomes hard to remain honest and impartial…
I've been keeping an eye out for the political union called Civil Contract since their first media appearance late last year, when some of my Sksela friends led by Nikol Pashinian, one of the most charismatic and vocal opposition figures, announced about the creation of the group with the ambitious task to unseat President Serzh Sarkisian and democratize Armenia.

In this day and age every other political force in Armenia tries to position itself by calling for Serzh Sarkissian's resignation. So there was nothing special about Civil Contract's announcement on that regard. What was special though, was the people who formed it.
First and foremost, is of course one of the most promising Armenian politicians – Nikol Pashinian, a non-partisan member of the Armenian Parliament, who got his mandate through the "Armenian National Congress" Faction but has been distancing himself from it due to, from what I understand, disagreements with the ANC leader Levon Ter-Petrossian's autocratic style.
Another prominent politician forming the Civil Contract is Sasoun Mikayelyan, a Karabakh war veteran, commander of "Sassoun" brigade, a former parliament deputy, a former mayor of Hrazdan. Both Pashinian and Mikayelyan were among Levon Ter-Petrossian's staunch supporters in his 2008 presidential bid and they were both jailed and served prison terms for what I think were purely political reasons.
What I find special about this group is the presence of people like Arsen Kharatian, Marine Manucharian, Arayik Harutyunian, who, as I mentioned earlier, were involved in a very interesting civil youth movement called Sksela. This movement grew quite prominent in 2007. Sksela had innovative approaches and open philosophy. It fell apart as former president Ter-Petrossian broke his 10-year-long silence and returned to politics and some members of Sksela decided to support him, while others wanted to keep the movement free of politics.
On Monday the Civil Contract organized a news conference and issued a statement [in ARM] criticizing the rally organized by the political Trio of the Armenian National Congress, Prosperous Armenia and Heritage party. Sasoun Mikayelyan specifically accused the Trio for monopolizing the opposition sphere and 'holding the rear' while Serzh Sarkissian was signing the treaty about Armenia's accession into the Russia-led Eurasian Economic Union.
A Facebook uproar followed, with representatives of the political Trio calling names to the Civil Contract and accusing them of acting as Serzh Sarkissian's spies, etc. The ANC representatives were especially vocal in bashing the new political group, which mainly consists of their former comrades.
Frankly, I found it strange that the Civic Contract would start criticizing the opposition after a rather big rally, which was at least something given the hopeless and apathetic state of the Armenian political landscape over the past year. So I asked Arsen Kharatian, a board-member of the Civic Contract and a long-time friend of mine, why is the Civic Contract accusing the Trio for not doing enough to prevent Armenia's entry into the Eurasian Economic Union. I also asked him why didn't the Civic Contract organize a protest on October 10-th, for example.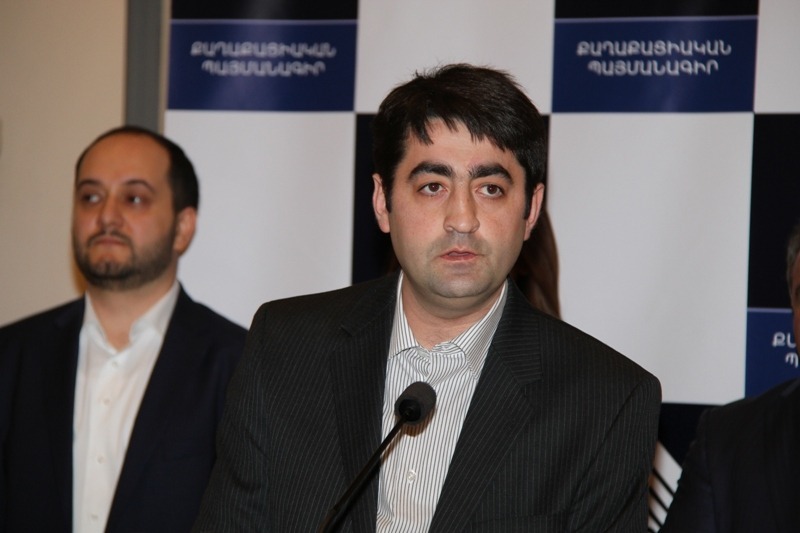 "First, I would like to disagree with you. We are not accusing the Trio. We are stating the fact that they are de facto agreeing with government's decision," Kharatian answered.
He further explained, that the Trio are operating in the same way as Armenia's ruling regime, in a very autocratic style. They don't consider the opinion of the people, they tell them wait and we'll tell you what to do.
Coming to the point about not organizing protests, especially re the accusations by the ANC vice-chairman Levon Zurabian, Arsen Kharatian pointed to the fact that even before the issue of Armenia's EU or EEU integration was raised, the original text of the Civic Contract stated, that Armenia should not integrate with any larger union, unless the status of Karabakh is clear.
"We also very clearly emphasize, that our approach on this is no and no. We're saying no to either integration process unless the status of Karabakh is clarified," he explained. As for the question about organizing a protest, he noted: "We have announced our opposition and as we've said before, if we had the capacity to do something on a scale that we felt would be effective, we would. Otherwise myself and many of my friends on personal and institutional civic capacities have been very active on working against what we don't believe was right for the country."
The Burining Question: Pashinian for President?

I've always admired Nikol Pashinian's charisma, courage and statesman's approach to politics. I would really like to see him form a political party and contest in elections, so I couldn't resist and asked Arsen Kharatian one last question: "You feel that you're not ready for major and effective action. When do you think you will be? Are you specifically targeting for the next parliamentary elections, next presidential elections, or say January next year?"
"Do not harm," is one of our mottos. If we cannot contribute positively, we are not going to bring more disappointment," he answered. "But what I want to say, is that I have a personal feeling, that a lot of my friends share with me, is what the Trio is doing right now is basically annihilating the political arena as much as possible," Kharatian added.
Meanwhile, according to him, the Civil Contract is suggesting "a new civic-political agenda and the possible cooperation of civic-political groups in Armenia, Karabakh and Diaspora."
"So we are starting an active process of discussions, cooperation with individuals, political groups, civil society both in Armenia, Karabakh and Diaspora," concluded Kharatian.
PS: I'm still not sure what to think of this new political initiative. The way I see it, they are at this point criticizing the would be opposition Trio while not being able to offer an alternative just yet. However, looking at the people involved in it, I really want them to succeed in becoming a major part of Armenia's political landscape, because I trust these people and because I know nothing bad can come out of them.