The official flag of Nagorno-Karabakh Republic (Artsakh) was raised high and proud in Boston's Armenian Heritage Park on Tuesday as Armenian president Serzh Sargsyan came by on a working visit to the USA. The flag jumped right out of every official photo published by Armenian President's website. You could just see that they're making a point. And rightly so.
I used to find it amusing, when my friends from Karabakh spoke about their 'country's independence,' since I used to hold the view that Karabakh wouldn't survive one day without Armenia. As time passes, I've had the chance to learn much more about Karabakh and meet more and more talented people from there and it has become a firm conviction that on the contrary, it is Armenia that wouldn't survive without Karabakh one day.
Meanwhile, Serzh Sargsyan's photo op with the Karabakh flag in Boston triggered some interesting discussions on Facebook. Emil Sanamyan, a prominent Armenian – American journalist, published a post on Facebook about the origins of the flag. From the discussion that followed here's what I've learned about the Karabakh flag:
In 1992 First Chairman of Supreme Council of the NKR Artur Mkrtchian suggested to create a flag for the newly independent country. This interested his French Armenian friend Oshin Yeghiazaryan. So when Yeghiazaryan returned back to France he told about this idea his American-Armenian friend Vahe Fatal who embarked on this effort.
Georgi Petrosyan, than acting leader of the Parliament (then called Supreme Council) presented the design in June 1992.
Vahe Fatal is an artist who lives in Los Angeles.
Meanwhile, there's more good news to add to the weight of the Karabakh flag. While I was writing this post, the Armenian National Committee of America reported that Hawaii has become the seventh US state to recognize the right to self-determination for the people of Artsakh.
Here's an excerpt from the Resolution.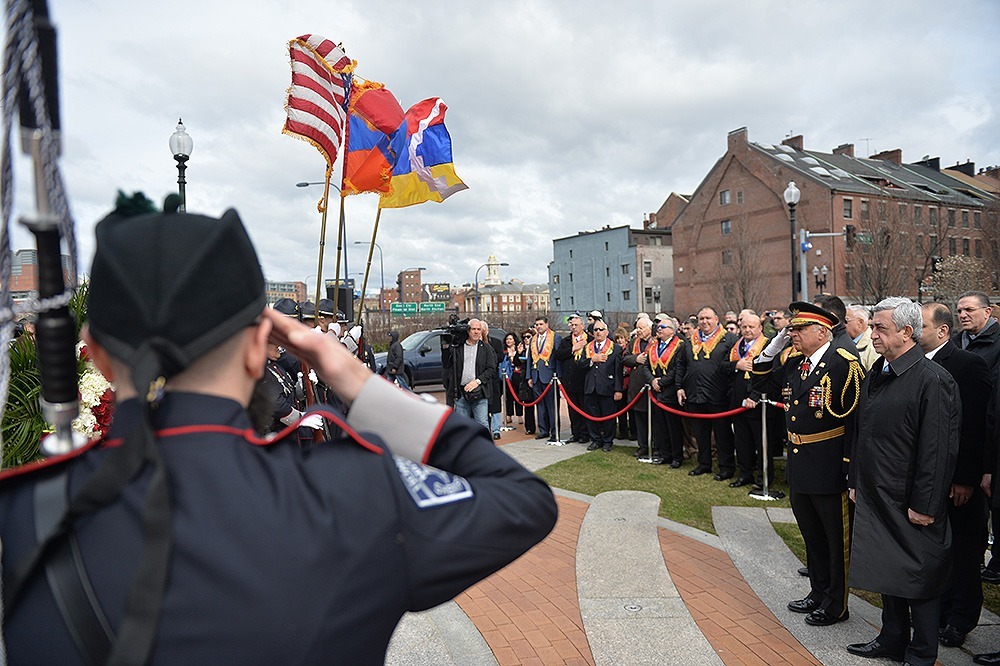 "BE IT RESOLVED by the House of Representatives of the Twenty-eighth Legislature of the State of Hawaii, Regular Session of 2016, honors and recognizes the Nagorno-Karabakh Republic and its citizens; and
BE IT FURTHER RESOLVED that this body recognizes the sacrifices made and dedication, and resolve shown by the people of the Nagorno-Karabakh Republic in the face of extreme adversity; and
BE IT FURTHER RESOLVED that this body extends its best wishes for the peace, prosperity, and continuing success of the people and government of the Nagorno-Karabakh Republic."