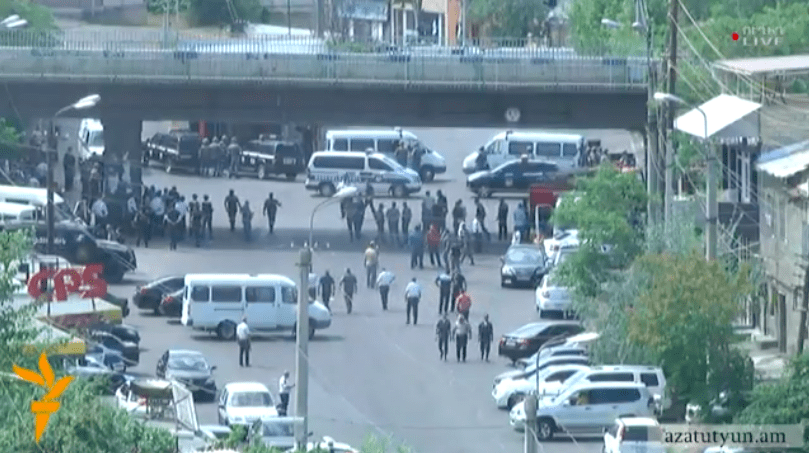 A group of armed men from an opposition group stormed a district police headquarters and exchanged fire with police in the Armenian capital, Yerevan, early in the morning on July 17, the National Security Service (NSS) said in a statement.
The NSS said that a police officer was killed and two other were wounded in the shootout in Erebuni police station. "The authorities are holding negotiations with the armed men to organize their surrender to the authorities," the security service said.
Armenian police and security services have closed down parts of Yerevan's Erebuni street, where the police department is located.
The opposition group calling itself "Founding Parliament" are calling for the release of their leader Zhirayr Sefilian arrested last month for plotting to overthrow the government through an armed revolt. Varuzhan Avetisian, a spokesman for the group, has also announced on his Facebook page that today they are starting a rebellion and want to "overthrow the government" and "release political prisoners."
Earlier today Facebook was temporarily down on some of Armenia's largest ISPs (Ucom, Beeline), possibly to avoid spreading of "Founding Parliament"s calls for citizens to come out to the streets and start a revolution.
Shortly after the calls for revolution the Armenian police started detaining opposition supporters in various parts of the city as well as in Yerevan's Freedom square, the key location for political gatherings and rallies in Armenia.