Following the destruction of Armenian cemetery in Jugha Azerbaijan have turned to the destruction of Molokan (Russian) cemetery.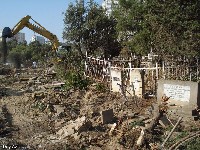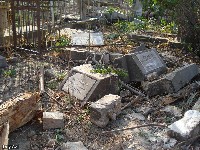 On September 4, 2007 Katya Karagadayeva was the first to report the tragic news to Molokan.org:
"My mother, Antonina Fedorovna Kudelina, is from a Molokan family. She grew up in the 'Molokanka' district of Baku. Her parents (my grandparents), grandparents, aunts and uncles are buried in that cemetery. Today I spoke with my cousin, Roman Kudelin, who flew urgently from Moscow to Baku to save our family's graves. He was able to move three of five coffins.
[]
I realize that a cemetery in a central part of a large city is an inconvenience, I just hate the disrespectful way Baku administration chose to go about getting rid of it. Is there "
Having experienced the same last year, during the destruction of medieval Armenian cemetery, Armenian bloggers were quick to respond, Kornelij Glas being the first to ring the bell.
Armenianhouse.org is more eloquent, and calling Armenians, Russians, Greeks, Assyrians, Jews to protest, and expressing surprise at the silence of Russian MFA.
Condemning notes come from Shadows of Moonlight, And nothing else matters…, Uzogh, Armenain Breaking News. The latter writes:
Under the pretext of building a highway Baku demolishes a Christian cemetery (the Nariman cemetery), where Armenians, Jews and Russians were buried.
[]
Every day the Russian Embassy in Azerbaijan received complaint about the decision of Baku authorities to replace the graves of the Nariman cemetery also known as Montinskoe or Armenian cemetery, where Russians, Jews, Tatars, Georgians and Armenians were buried. Nariman cemetery director Kyamran Mammadov assures that "the replacement of graves is conducted at the state's expense…
The main body of information about the cemetary updated as the issue develops can be found here. I can only add, that despite my firm belief, that the dead should not hinder the live people to live, I am starting to see dangerous tendencies of destroying already second Christian (non-muslim) cemetery in Azerbaijan, and the disrespectful manner in which this CoE member country that at least nominally acknoledges freedom of religion and respect for non-muslims is carrying out such actions is most disturbing.