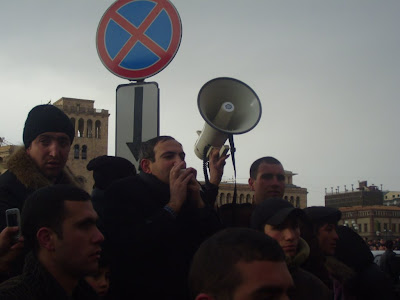 Opposition Protest in front of Government Building © Photo by Artur Papyan, Yerevan, 2008
Armenian opposition gathered more then 50 thousand supporters for a rally protesting the election results in front of Matenadaran today, closing the Mashtots avenue from Matenadaran till Nairi Cinema theater. Nikol Pashinyan, one of the most vocal opposition leaders, editor in-cheif of the Haykakan Zhamanak daily announced, that the opposition denounces the elections, and calls for a new round of elections. Presidential candidate, Former President Levon Ter-Petrossian in his speech characterized the elections as "shameful". He further called Prime Minister Serzh Sargsyan's victory the "victory of the criminal world, ….victory of Mher from Tokhmakh, Mouk from Mkhchyan, Nemets Rubo, Dodi Gago, Lfik Samo…" , naming the oligarchs supporting the Prime Minister, who according to preliminary data, has won the elections by more then 52 %.

The opposition then took the protestant for a long march through Yerevan, passing Mashtots, Amiryan avenues, short stop at the Government building. The march then passed through the Sakharov square, Republic street, passing by State Security Service hedquarters, Koryun street, trans-passing the Central Electoral Commission (CEC), which was heavily guarded, surrounded by major police forces. While the initial plan was to gather in front of the CEC and demand, that they recognize the elections invalid, the amount of police force around them apparently changed the mind of opposition leaders, so they instead moved to the Freedom Square in front of the Opera House, where there is a large crowd waiting for further instructions from the opposition leaders while I'm writing these lines.
It is still unclear what the further course of their actions will be. The authorities are obviously very well prepared for every scenario. However, from what I could see so far, it doesn't seem that the opposition are prepared for a direct confrontation. Let's wait and see.
UPDATE: After I left the opposition leaders had sent off the crowd, telling them to come back for another rally at 15:00 next day. Looks more like an attempt to cool down the frustrated voters, then anything else. Levon Ter-Petrossian has said he has a plan. It is somewhat hard to believe that he does. Let's wait and see, hopefully they won't do anything stupid. Hopefully Ter-Petrossian remembers 1996, and understands, as the Armenian Election Monitor 2008 rightly points out, that this is only a Deja Vu of "Ter-Petrossian's equally disputed re-election in 1996 when tanks and soldiers were sent out onto the streets of Yerevan". If anything, Levon Ter-Petrossian can blame himself for what we have now in this country. It's time HE pays the price.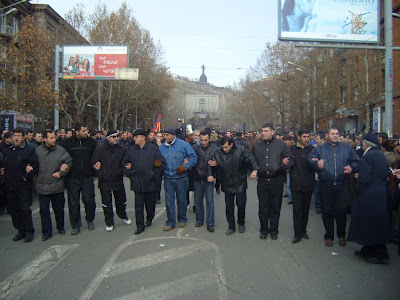 Opposition Protests, marching on Mashtots Avenue © Photo by Artur Papyan, Yerevan, 2008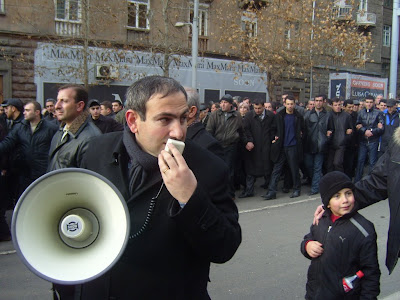 Opposition Protests , Marching © Photo by Artur Papyan, Yerevan, 2008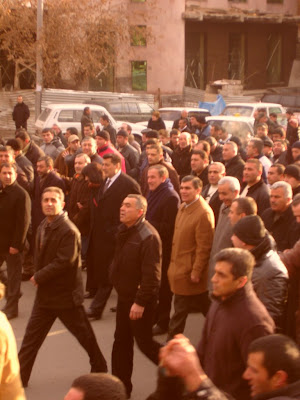 Opposition Protests, passing through Sakharov Square © Photo by Artur Papyan, Yerevan, 2008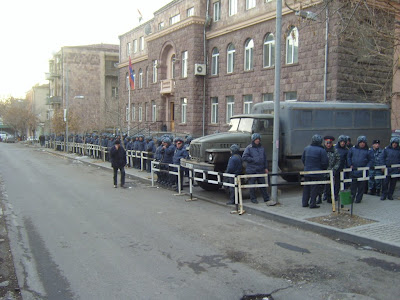 Central Electoral Commission, Police forces well prepared © Photo by Artur Papyan, Yerevan, 2008