An Armenian lawyer has filed a suit against "Hraparak" daily newspaper for not moderating readers' comments on the paper's online version, which supposedly damage the lawyer's reputation and which he c onsiders offensive.
Lawyer Artur Grigoryan is demanding 18 million Armenian Drams (around $47 thousand US) in damages from the newspaper. Considering the tight budgets on which Armenian newspapers run these days, this amount should be enough to shut down "Hraparak" for good.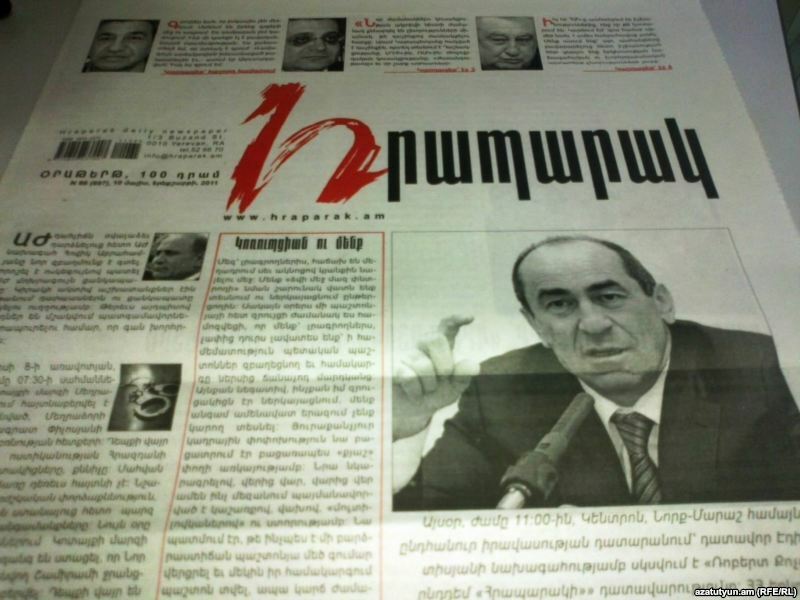 The daily is no stranger to libel and defamation lawsuits brought against it under  Article 1087.1 of the Armenian Civil Code. In fact, this is already the 6th such case against "Hraparak" daily.
In my humble opinion, the newspaper in question is full of unethical and non-journalistic crap and it deserves most of the rulings against it.
However, this particular case filed by lawyer Artur Grigoryan has far greater and more dangerous implications for the Armenian internet sector and freedom of speech in general.
Article 1087.1: Vague and Dangerous
If the court upholds the lawyer's claim, anyone can take online services and publications to court for user-generated content such as Facebook and blog comments, photos, videos, blog posts, Wikipedia edits and comments on its talk page, Foursquare and Yelp restaurant reviews about this or that hotel and restaurant.
The Criminal Code's article in question is very vague and has provisions, according to which an organization or person running/owning the medium where the offensive content appears can be held liable for anonymous comments. It is also very broad, hence, if someone anonymously paints on your house's wall offensive comments about your neighbor or say the President, you can be taken to court, because you own the property.
RA Human Rights Defender Karen Andreasyan challenged the provisions of the RA Civil Code Article on Insult and Defamation in the Constitutional Court.  He asked the Court to recognize the provisions of Article 1087.1 as unconstitutional. The Constitutional Court rejected the Ombudsman's appeal and only advised the lower courts to be more cautious in handling libel lawsuits filed against media and generally avoid imposing hefty fines on them.
Translated to Armenian reality, this means it is ok to continue "punishing" the opposition newspapers and so on.
Bloggers Move to Protect Their Freedom of Speech
The Constitutional Court's decision has triggered a protest campaign by Armenian bloggers. Led by one of Armenia's top bloggers Samvel Martirosyan, a number of blogs have chosen to republish the comments that led "Hraparak" daily to court.
I have officially joined the campaign by publishing those  comments on my Armenian language blog at www.ditord.net.
Article 1087.1 – here we come!