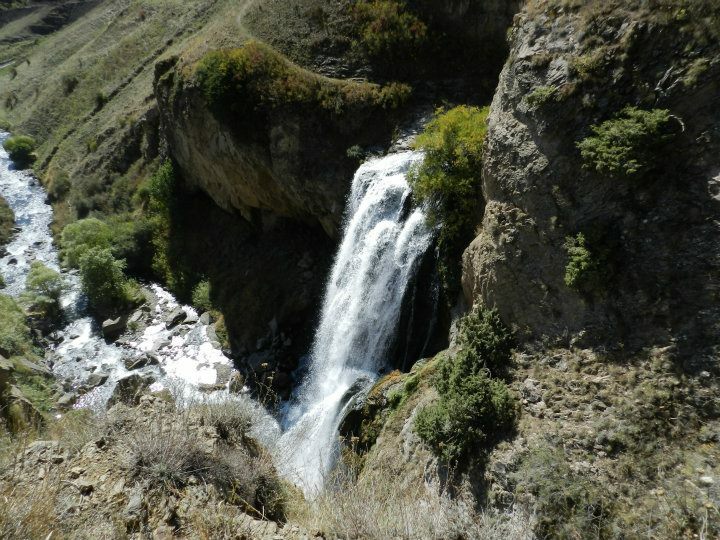 Environmental activists scored an important victory on Monday as the company, which is building a hydropower plant at the picturesque Trchkan waterfall in Northern  Armenia announced about its intention to stop construction operations.
The group of environmental activists united under motto "Defend Trchkan Waterfall," has been very vocal in trying to stop  construction at the waterfall, which is officially recognized as a natural monument in Armenia and as such is protected by law.
Contrary to what the construction company and the government officials are claiming, the environmentalists insist, that the construction of a hydroelectric plant will damage the waterfall and make it inaccessible to public. They point to the example of Shaki waterfall in Syunik where water flows only at the discretion of the owners of the similar plant operating there.
Defenders of Trchkan have organized a range of protest actions, set up petitions, sent letters to authorised bodies to stop construction. But even though they ensured public support (e.g. their Facebook group has around 5000 members), their calls were largely ignored.
As a last resort, activists set up a protest-camp at the construction site next to the waterfall on October 25th and kept the site effectively blocked for construction workers till October 31st, when "Robshin" LTD, the company behind the hydropower project, came up with a statement saying they're stopping construction to avoid "various political manipulations of the matter" and calling for further discussion to find a solution which suits everybody's interests.
Even though this looks like a victory for environmentalists, the timing of the statement by the company is not accidental, as today, on November 1st, defenders of Trchkan are organizing a protest action near the Ministry of Nature Protection. Related discussions on Facebook are pointing to the possibility, that "Robshin" LTD and the authorities, who back them, are just maneuvering, trying to stop the momentum gained by activists.
PS: Make sure to watch this and this videos to get a taste of how it started and what it looked like to be camping at the construction site.