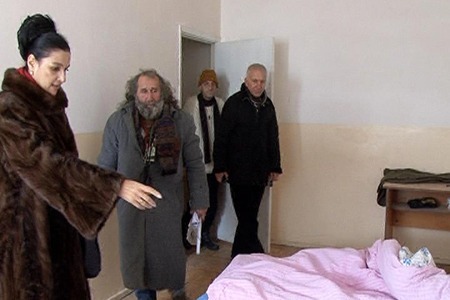 The number of Yerevan's homeless is a mystery. Municipal and State Social Welfare Administrations don't have reliable data, because the homeless are constantly on the move and in many cases avoid the authorities. And yet, Yerevan's mayor Taron Margarian has come up with a plan to solve the problem of sheltering them.
On Friday they mayor announced the launch of a joint project of Yerevan's municipality and "Hans Christian Kofoed" fund, to search for and shelter all the homeless people in the capital before New Year and Christmas holidays.
According to the press announcement, financial means have been allocated to accomodate them, provide basic medical care and "other urgent needs."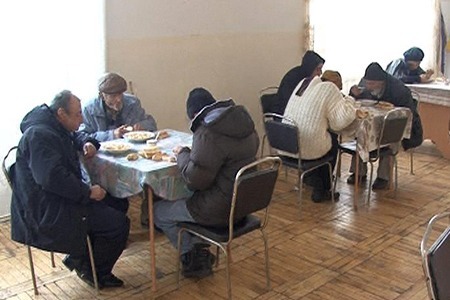 Head of Municipal Social Welfare Department Ruzanna Zaqarian said, that the authorities plan to register all the homeless, create an inventory of their problems and start working towards finding employment or "other solutions" to their problems.
This is a very welcome move by the mayor, especially ahead of the festive holidays.
The Challenge
My collegue Vahe Sarukhanian, a journalist at Hetq.am, has covered Yerevan's homeless people extensively. He told me the number of homeless people is definately more than 100 in the capital. As for a more accurate estimate, he says, nobody can be sure.
A Temporary shelter and Center for Supporting Homeless People has been operating in Yerevan's Haghtanak (Choorod Gyugh) distrcit since 2006. It operates with state funding. The Center accomodates homeless people for a two-month period. During this time the social workers of the center try to address some of their problems.
According to Hetq.am, by the start of this year (during 4 years of operation), the center had returned 22 homeless people to their families, found employment for 20 of them.
A representative of the Ministry of Social Welfare told Hetq.am that 50% of the homeless people return back to Temporary shelter again and again after one or two days after their two-month housing period is over. The shelter can fit 60 people, so there's always more people in need of a shelter than the center can provide. In winter they try to accomodate more people, cramming up to 100 in the space allocated for 60.
And yet, Vahe Sarukhanian tells me, even when those 100 have been in the temporary shelter, he has seen a lot more homeless people around the city.
Vahe's articles show us portraits of hopeless and disappointed people (eg. here or here), who have no motivation to solve their problems and go on with life.
So, after the holidays are over, Yerevan's mayor Taron Margarian will face a question – how long is Yerevan's municipality, along with supporting donors and funds, ready and able to house those people?
The state-approved rate of sustaining a homeless person for a day is 2500 Armenian drams ($6.5). The state budget has allocated 69 million drams (around $180,000) for taking care of the homeless this year. This would be only enough for 75 people. The funding is up from 54 million drams of last year. But there's always more in need.
Judging from Taron Margarian's announcement, the municipality has found additional resources to house those not covered by the state budget, which is great. But their announcement also demonstrates, that the Social Welfare Administration don't have numbers either. They don't know if they're dealing with 25, 50, 100 or 200 homeless. They are just starting to register the homeless and find out about their problems. I hope the municipality people have enough determination and resources to make everything right.
However, as the math above shows, only 20-25% of the homeless return to more or less normal life. What will happen with the rest? Will the municipality house 25, 50, 100 or a much larger crowd forever?
PS: I'm writing this blog-post as a note to myself. To get the facts down and revisit the issue in a couple of days, couple of weeks, couple of months, couple of years. Because it is very hard to see homeless people in the streets of Yerevan and harder to understand, that you can't really help them. Hopefully, Yerevan's mayor can.