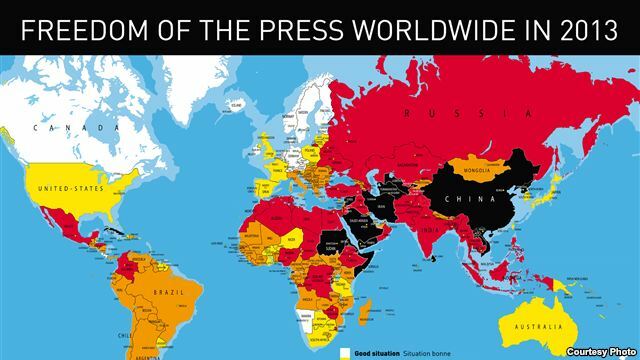 Armenia's rank has improved by 3 points in this year's Press Freedom Index published by Reporters Without Borders, but we're still ranked in the "noticeable problems" category.
The Paris-based press watchdog says Armenia ranked 74th, significantly higher than neighboring Georgia (100th), Azerbaijan (156th), Turkey (154th) or Iran (174th).
Armenia is grouped in the report with the leading group of ex-Soviet states: Moldova (55th, -2), Georgia (100th, +4) and Kyrgyzstan (106th, +2).
"These countries enjoy broad media pluralism and a low level of state censorship, but they still face important challenges concerning media independence and the working environment of journalists," the watchdog says. "The latter are often in the firing line in highly polarized societies and treated as easy prey by a variety of pressure groups."
Armenia's current rank of 74th is its best for the past decade. Prior to this the best score we had was 77th in 2007. The situation deteriorated in 2008 largely due to the tense political situation leading up to and following the disputed presidential elections. After that the country's press freedom ranking remained poor (101-102) till 2011-12, when RSF ranked us 77th again.
The situation with other ex-Soviet states is pretty rough according to RSF. Specifically, everyone's big brother, Russia (148th), has lost six places because "repression has been stepped up in response to an unprecedented wave of opposition protests," the watchdog says.
The same three European countries that headed the index last year hold the top three positions again this year. For the third year running, Finland has distinguished itself as the country that most respects media freedom. It is followed by the Netherlands and Norway.
Although many criteria are considered, ranging from legislation to violence against journalists, democratic countries occupy the top of the index while dictatorial countries occupy the last three positions. Again it is the same three as last year –Turkmenistan, North Korea and Eritrea.