We saw a different, a self-assured Raffi Hovhannisian today during his post-election rally, as he announced his decision to stay in the square and wait for Serzh Sarkissian to come to the Liberty square and hand him over the power.
I've got to say, that this would be technically impossible. The real demand should be to hold new elections, in which case Sarkissian would have to hand over the power to Parliament Speaker Hovik Abrahamian.
The last two days indicate, that Raffi Hovhannisian himself wasn't expecting such a large percentage of votes and such an enthusiastic support for him, so he was a little taken aback on the 19th, when he invited a press conference in Liberty square. But today he was self-assured and spoke a different language, that of an elected president.
During the rally, Hovannisian signaled his intention to launch a campaign of street protests, urging supporters to brace themselves for a "prolonged struggle."
However, the presidential candidate was again mostly emotional, but failed to deliver clear signals about the future courses of action as to what and how he is going to do.
Hovhannisian claims victory in February 18 elections, where he won 36.75% of the vote according to the preliminary results released by the Central Election Commission (CEC). The incumbent president received 58.6% of the votes according to the same source.
Meanwhile, there are numerous reports about irregularities, violations, vote rigging, but the international observers are giving favourable 1st assessments, even
triggering protests
actions by local activists.
Nikol Is Different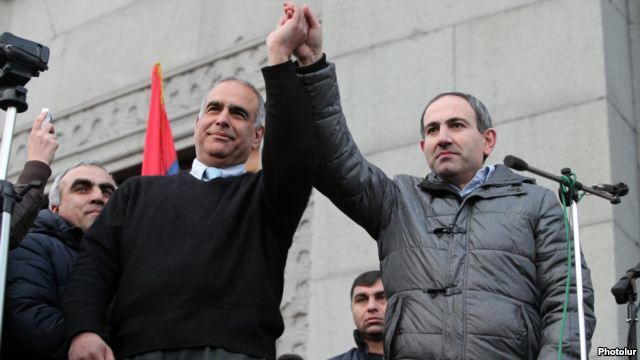 Via RFE/RL, in his speech, Hovannisian also appealed to other opposition forces to join his movement. Some prominent opposition figures rushed to express support for his cause at the rally. Those included Nikol Pashinian, a parliament deputy who played a major role in the 2008 post-election protests staged by another opposition leader, Levon Ter-Petrosian.
"The triumph of the Armenian citizen is unstoppable and the victory of the people inevitable," Pashinian told the enthusiastic crowd, calling Hovannisian the legitimate election winner
​​But Pashinian cautioned that the success of the movement will depend on Hovannisian's "determination" and ability to "address the people without puzzles." "The people of Armenia cannot be led to a defeat or disappointment. Victory or nothing! Victory and nothing else!" declared the outspoken oppositionist.
PS: I confess, I really admire Nikol. The way he electrified the audience, the words he used to address Raffi and more…