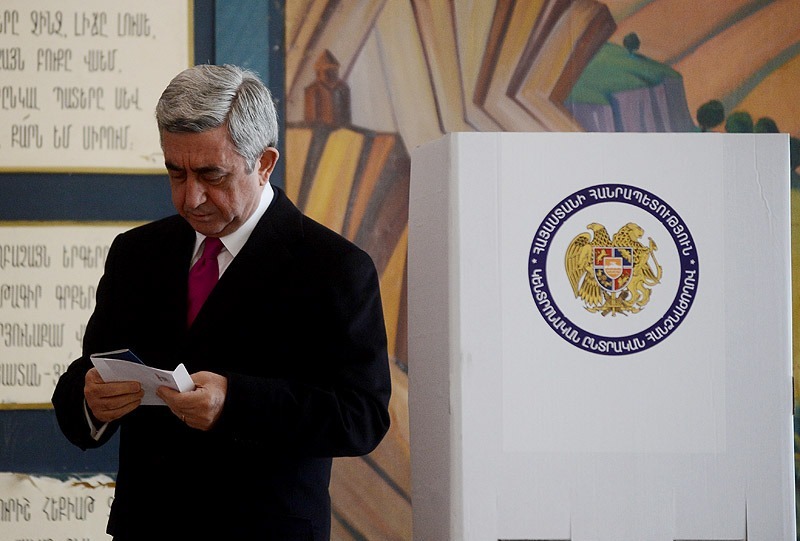 Preliminary data from the Central Election Commission (CEC)  shows that with ballots counted in all 1988 polling stations president Serzh Sarkissian scored a comfortable 58.6% win in Monday's presidential elections.

The CEC said 60% of about 2,5 million eligible voters went to the polls on February 18th.
Leader of opposition "Heritage" party Raffi Hovhannisian came second with 36.75% of the vote.
Another key opposition candidate, former PM Hrant Bagratian, who had the support of some of the activists from opposition Armenian National Congress (HAK) got a humiliating 2.15%.
The opposition candidates have voiced concerns about the official number of  eligible voters, noting that it is inflated by as much as 700 thousand to allow the authorities to manipulate the final voting figures. However, they have not provided reliable data to back their claims so far.
Meanwhile, the authorities focused on the formal side of the elections and got a perfect-looking election process: orderly polling stations, lack of violence against opposition and journalists, freedom of speech on TV during the pre-election campaign, etc.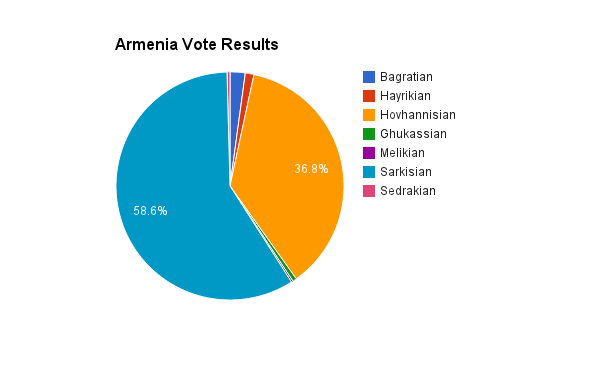 I find it striking, that in a country, where everyone complains about Serzh Sarkissian and his family's and allies' dominance on all sphere's of business, with cost of life growing by the day while people's incomes don't, Sarkissian would somehow get a majority vote.
I am convinced, that in these elections Serzh Sarkissian defeated the people, not a political opponent.  I don't care how this was achieved, be it by dissuading real opponents from contesting the elections, vote buying and employing sophisticated vote-rigging schemes, or even a real squeaky-clean, free and fair election process. I know that these were not the type of elections one should expect from a democratic country. But I have no proof. So I applaud the brilliance with which Sarkissian handled this thing called elections.
Multiple Win for Sarkissian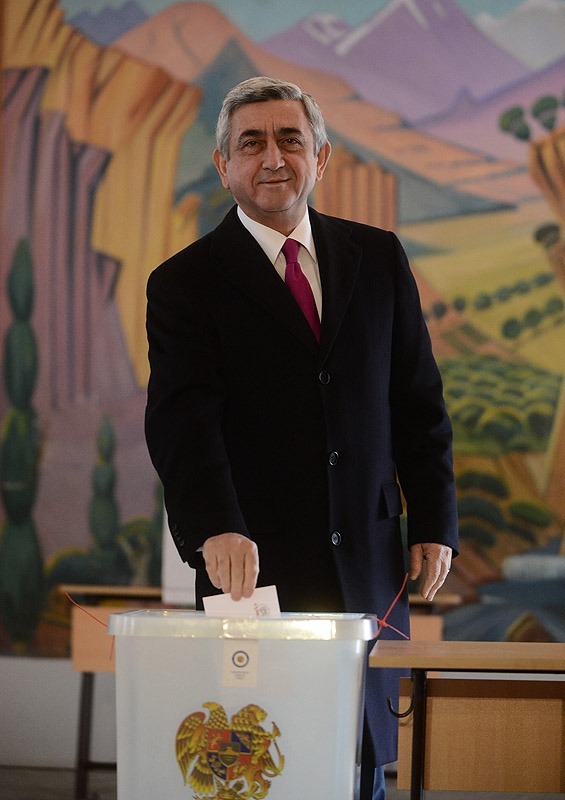 The incumbent president Serzh Sarkissian didn't just win a second term in these elections. A Raffi Hovhannisian collecting a staggering 539672 million votes and landing in second spot bodes well for the incumbent president in a variety of ways.
Sarkissian can point to Hovhannisian's figures as an indicator of really competitive elections and look good in the eyes of the European partners.
The re-elected president can also count on support from Minsk group co-chair countries (USA, Russia and France), as Hovhannisian's campaign pledge of recognizing Karabakh's independence is not just totally pointless, but is also dangerous and destabilizing for the whole region and those country's interests here. Sarkissian can also use "the half-a-million vote for Hovhannisian" to adopt a harder policy line on Karabakh if needed.
Additionally, Raffi Hovhannisian got about 200,000 more votes than HAK leader Levon Ter-Petrossian did in 2008. This not only humiliates the 'radical' opposition HAK, but propells Hovhannisian into the "most influential opposition figure" spot.
I know from conversations with people from Sarkissian's immediate surroundings, that Hovhannissian is considered a much more 'convenient' opponent to Sarkissian, because he is 'decent' and despite his seemingly radical rhetoric and hunger-strike-type actions in the past, is not nearly as radical as it seems.
In fact, Hovhanisian was one of the rare opposition politicians who attended Serzh Sarkissian's inauguration after disputed presidential elections and March 1 violence in 2008.
Looking at The Brighter Side
Armenia can actually benefit from these clean looking elections in a number of ways.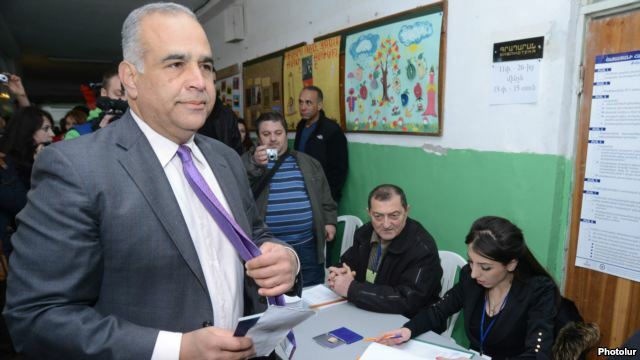 Following a short period of protest rallies, that are sure to follow, as I'm certain Raffi Hovhannisian will just have to hold a couple of insignificant rallies to calm down his supporters, we will enjoy a prolonged period of political stability with no powerful opposition force to challenge the dominance of Serzh Sarkissian's Republican party.
The EU will no longer hesitate in giving Armenia benefits promised under its Eastern Partnership program, including enhanced access to the European market, financial assistance. This will help mitigate Russia's growing grip on the Armenian economy, draw us further away from Putin's USSR-revival plans.
An added bonus will be in increased freedom of speech in the Armenian media and an overall understanding in the Armenian society, that more civilized polls are possible in this country.