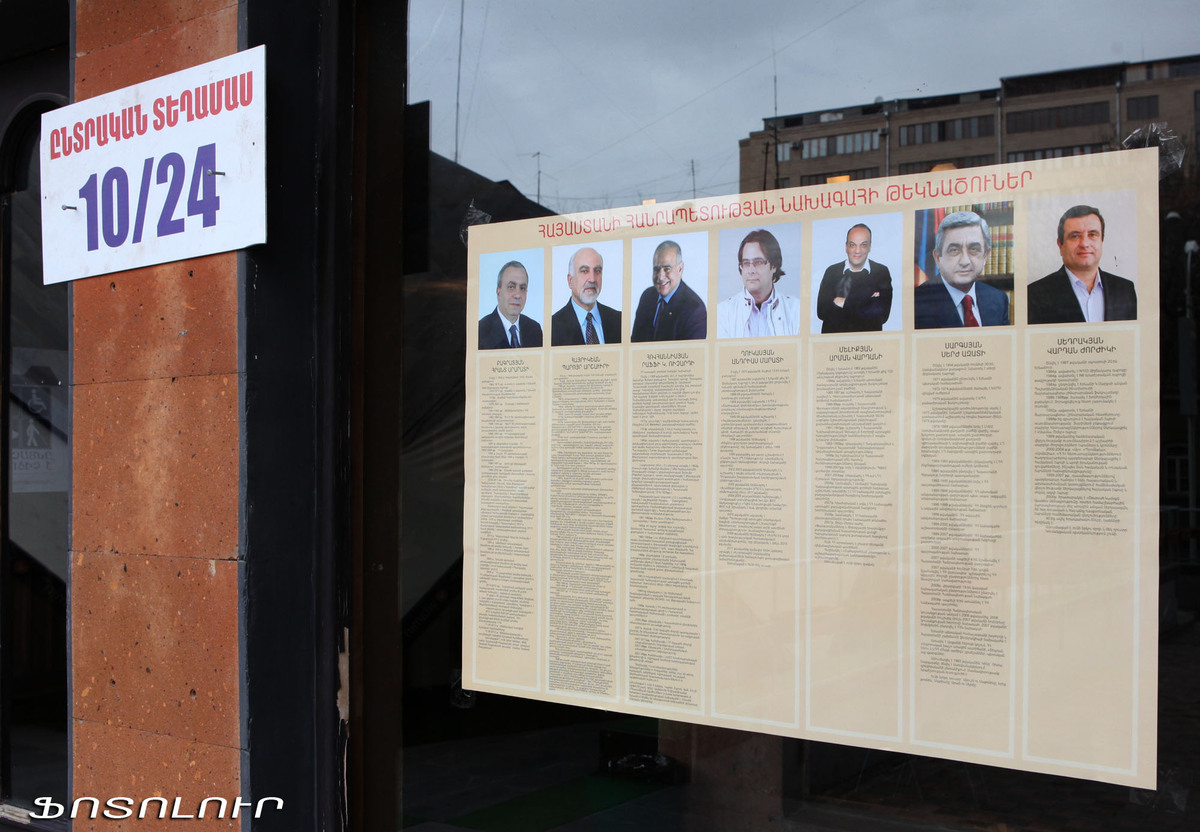 Armenia is heading to the polls today. Reluctantly. Everyone I've talked to is sure that the incumbent president Serzh Sarkissian is going to win his second term. Yet not one of those people said they'll vote for Sarkissian…
More importantly, very few people have said they'll go to the polling stations at all.
"It is all pre-decided anyway," the vote-sceptics say, "Why bother, go to polls. They will do as they please anyway!"
There have been allegations about attempts to bribe voters, collect passport data to scare voters into thinking that they'll be tracked… all in favour of Serzh Sarkissian.
The Armenian authorities, however, seem keen on getting a clean vote. They have said this multiple times and have tried to follow suit.
My NGO, Media Diversity Institute – Armenia, has been running a project to compile a crowd-sourced map of election violation reports during the past parliamentary and the ongoing presidential elections. The map is available at the address www.iditord.org. Looking at the map and recalling the dynamics of the past elections, I have to state, that there are 5 times less reports about potential voting irregularities at the moment of writing (106) than we saw during the May 6, 2012 parliamentary elections hours before the polling stations opened.
Given my conversations with neighbours, friends and plain strangers as summarized above, the main intrigue of the elections will be whether enough people will turn out for the vote to be legitimate or will the authorities have to manipulate figures… And also, if enough people do turn up, will anyone vote for Sarkissian to put the pollsters to shame, or will he become president by manipulating figures…
The Layout
Serzh Sarkissian is facing 6 challengers. None of them has a comprehensive pre-election program, not even the two probable runners up Raffi Hovhannisian, a former foreign minister, and Hrant Bagratian, a former prime minister.
Dramatic things happened during this campaign, as a presidential candidate, ex-Soviet dissident Paruyr Hayrikian, was wounded in an apparent assassination attempt and another candidate Vardan Sedrakian, a self-proclaimed specialist of a medieval Armenian saga, appeared to be connected with the self-confessed assassins, who happened to be construction workers with bad inclinations towards drugs and alcohol. The female part of the voters had the chance to try out their maternity instincts as a young, rich and good looking presidential candidate, Andrias Ghukasian, director of "Radio Hay" radio station, went on a hunger strike.
The Logistics
Polling stations open at 8:00 and close at 20:00 (detailed timetable of all election related processes in Eng. is here).
The Central Electoral Commission is featuring a video-feed this year. They'll be live every two hours to summarize participation data, comment on voter activity and violations, irregularities.
You can follow the presidential elections on Twitter via the hashtag #armvote13.
You can also send and follow reports about electoral fraud on Twitter via the hashtag #iditord.
PS: I'll be live-blogging, tweeting, etc all day both as @ditord and @armenialiberty. I sincerely wish us all very peaceful, un-exciting and regular elections.