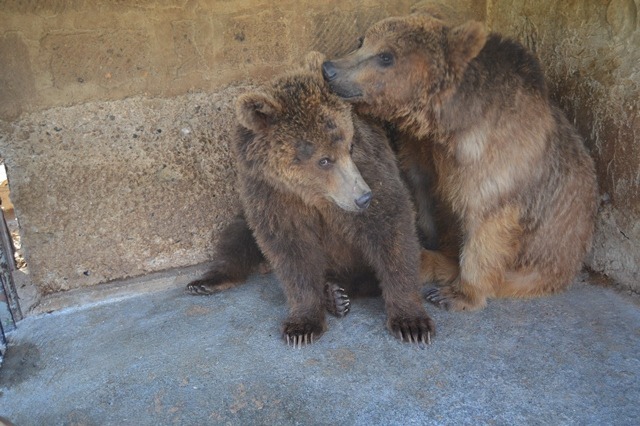 Two months after Daily Mail published a touching story (albeit not very accurate) about the starving bears and lions in a private zoo in Armenia's second largest town, the two bear, Masha and Misha, are being transferred to Libearty Bear Sanctuary in Romania.
The Foundation for the Preservation of Wildlife and Cultural Assets (FPWC) with the support of Brigitte Bardot Fondation and the RA Ministry of Nature Protection will implement the transfer of the two bears, which were brought to Yerevan from the Gyumri private zoo on March 23. This announcement was made by the partners during the press conference on March 22.
"In a few hours, the bears Masha and Misha, whose plight has shocked public opinion over the world, will leave their cages for a natural environment.  The FPWC and my Foundation have worked together, with the support of the Ministry of Nature Protection, to achieve this great result. Beyond this particular case, I am pleased to learn that this Ministry will present on Friday a proposal to strengthen national legislation so that there is never again a "zoo of shame" as the one discovered in Gyumri. Armenia is now an example, the image of a progressive country, respectful of animals… Bravo, Merci", said the founder of the Foundation and the world famous French actress Brigitte Bardot.
There had been three lions, two bears and two guinea pigs in the private zoo, which has since been dismantled and the animals were all transferred some to Yerevan's zoo and some to Caucasus Wildlife Refuge in Urtsadzor.
The lioness Mary and her cubs Zita and Geeta will be transferred to the UK once they've sufficiently recovered.
During today's press conference the Deputy Minister of Nature Protection Khachik Hakobyan noted that the Ministry of Nature Protection will submit a package of new legislative changes, which will be aimed at the protection of wildlife and animals.
Gyumri's People Envy The Animals?
My hometown Gyumri has been dying a sad-slow death. The town was a manufacturing power-house in Soviet times, producing textile and machinery. Its economy collapsed after the earthquake of 1988 and never got the chance to recover as Armenia plunged into war and recession of the 90's.
Work-migration to Russia is the main specialization here, while the wildest dreams of happiness are associated with emigration to Europe. As the story about the sad zoo unfolds, there's a new joke in town. People say they're ready to roar like lions and bears if only they can get a visa to Europe.
Can't say I blame them…