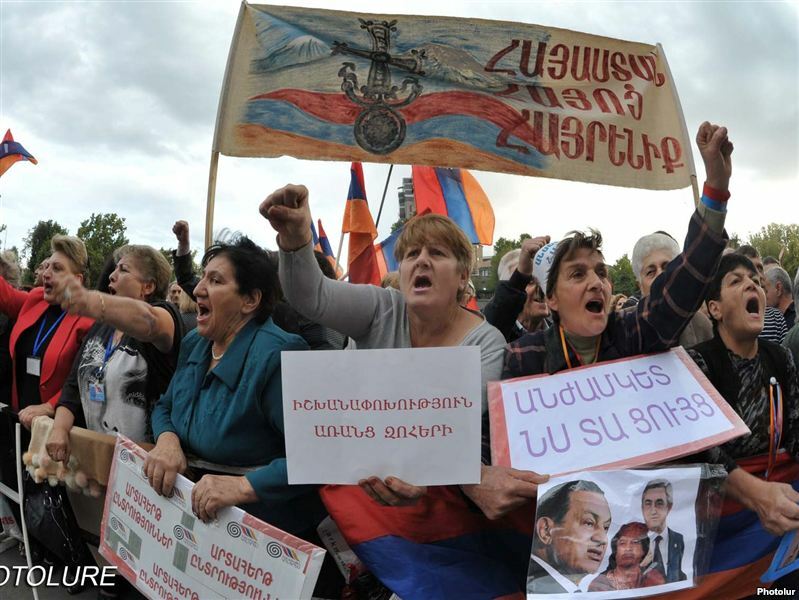 The leader of Armenia's largest opposition group Armenian National Congress Levon Ter-Petrossian announced the start of one-week long non-stop rallies today,  in a long awaited decisive move, following days of speculation as to what exactly the opposition will do when they see that the authorities have no intention of returning to dialogue.
The tone of the opposition rally was elevated today despite rain which never stopped throughout Ter-Petrossian's speech.
It seemed, that after months of uncertainty, the opposition finally knows exactly what they're doing.
The decision to start non-stop rallies was made after 'consulting' with opposition supporters, although I'm under the impression, that everything was pretty much decided and planned beforehand.
The opposition supporters have put out tents in the Liberty square at this point and are planning to stay there all night. Opposition leader Levon Ter-Petrossian is reportedly also there.
As he announced about the non-stop rallies, Ter-Petrossian made it clear that his supporters must remain peaceful and highly disciplined. He had a list of "do's" and "don'ts" which seemed to indicate, that all mistakes of the past had been taken into consideration.
Even though I have déjà vus of 2008, I feel somewhat relieved to finally see something clear come out. Sure, nobody wants the repeat of violence that happened in March 2008, but at least "Alea iacta est" and we know that at least one political force in the country is prepared to really "Fight! Fight till the end!" and not just keep sounding same old threats rally after rally after rally…
PS: With Kocharian's announcement earlier today and Ter-Petrossian's non-stop rally announcement, this day has become the most important political turning point since March 2008. As an Armenian, I'm cautious, as a blogger, I'm intrigued and excited as hell!