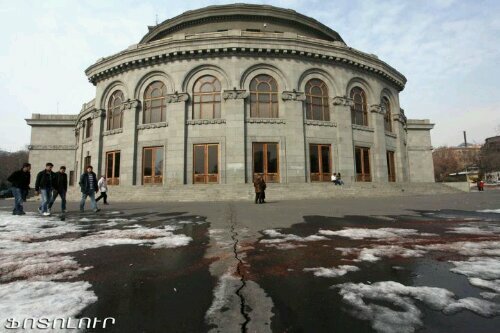 The roof of the underground parking facility built under Yerevan's Liberty square has cracked less than two years after construction.
So it happens, that the roof of the parking facility is also the Yerevan's Liberty square.
The square has been the epicenter of Armenia's political landscape since early 1990's, when historic rallies staged here resulted in the reestablishment of today's independent Republic of Armenia.
The square also witnessed the non-stop opposition protests in 2008, which ended in unprecedented political standoff in the country, March 1 violence and loss of 10 lives.
After Serzh Sargsyan was sworn in as President in the Liberty square, while half of downtown Yerevan was cordoned off to keep the opposition away from the square, the Armenian authorities sealed it off for the opposition for 3 years. The official reason was that there was a need for building an underground parking facility, although most people speculated, that it is just a maneuver to keep the opposition away from the square.
The parking facility was opened with fanfare. Officials announced, that the building quality is amazing and that it is a superb parking facility. I've parked there 4-5 times. It is OK.
PS: There is a lot of symbolism attached to this square. It is pretty much regarded as the symbol of Armenia's Liberty. And now it is cracked!