A Facebook user, who recently came to the center of public attention for posting misinformation under the pseudonym Դիանա Հարությունյան (Diana Harutyunyan) has been detained by the National Security Service of Armenia, after Armenian Prime Minister Nikol Pashinyan called the user's posting a threat to national security.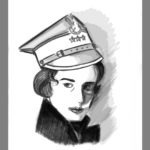 The Facebook account in question seems to be deleted by now. Last time I accessed it, the account's About section made it clear that it is a sarcastic and/or parody account.
Following the US Drone strike in Iraq, which killed the Iranian General Qasem Soleimani, the Facebook user had posted misinformation, as if theArmenian Prime Minister Nikol Pashinian has congratulated the US President Donald Trump on the "successful operation." The misinformation had been first picked up by Azeri news sites and then by the Iranian ones, risking serious consequences for Armenian – Iranian relations.
"This is the case, when the false "freedom of speech" has endangered our national security," Nikol Pashinian stated in a Facebook post. "The authors of the news and their motives must be investigated," Armenian PM wrote.
Hours after Pashinian's post, the National Security Service issued a statement, claiming it had carried out "investigative – operative activities" and as a result identified and detained the Facebook user.
Commenting on OWASP Armenia Facebook groups, cyber-security expert Samvel Martirosyan finds it unlikely that the NSS would have the technical capabilities to identify the user with technical means. He also excludes the possibility that Facebook would have provided data on the user for such a posting and in such a short period of time.
Meanwhile, Armenia's top lawyer specialized on technological issues — David Sandukhchyan, has raised serious concerns about the legal aspects of the detention and claimed that the Facebook posting does not constitute a crime according to Armenian legislation and mocked both Pashinian and the the NSS for claiming that "the post by some fake user can endanger national security."
Referring to the video published by the NSS (see below this post), which neither publishes the real name of the Facebook user, nor the article of criminal code, according to which the detention has taken place, Sandukhchyan has also written "What if there was no fake at all and it was done only to scare people, who post undesirable content on Facebook?
PS: I should just add that this is a very troubling development, since this is the second case, when a Facebook user has been detained after Pashinian directly instructed the National Security Services to take action.